It's too big a gap. I hadn't been up Ben Lomond since the winter, and that's just not right. So a school-night quickie was in order.
Available personnel was limited to myself and Ange. Poor Ange, as anyone who's been with me on my home hills will know, I have an encyclopaedic knowledge of "interesting" local facts, very varied in topic and crossing an ocean of time. Hey, and new ears to catch it all!
It was very hot and sunny when we set off sometime after 1730 and we passed a few folks coming down, one of whom (Who was also very cheery, amongst the bunch of otherwise stoney-faced bastards that we came across. Don't like the hills? Stay at home.) remarked that they hadn't seen anyone else climbing Ptarmigan Ridge, everyone was going in an anti-clockwise direction. Well yeah, that's because the guide books tell you to do it that way.
The trail is good, the views expand with every footstep and a cool breeze was very welcome. We sat on a warm rock and ate our pieces as the light became more diffuse with high thing cloud shimmying in from the east. I stuck my windshirt on as well, it might be summer but as the evening wore on the warmth wore off.
From Ptarmigan to the summit is a gem of a walk, with a little scramblyness thrown in too. The air was clear and all the usual Arrochar, Crainlarich, Tyndrum and Orchy peaks were visible, but a wee prize was the distcinctive shape of Nevis looming large on the horizon 47 miles away.
The cloud thickened and the light changed, from golden streaks picking out every contour on the hillside to dark grey cardboard cut-out mountain shapes in ever fainter rows.
There was no sunset. We waited in the little rocky shelter below the top in hope of some colour appearing, but it never did. What did appear were four slightly rattled looking folk descending from the summit who passed by quite quickly. They'd be fine, although it was after 2200 by the time we were standing by the trig pillar it never got properly dark until midnight.
Nice to be up there after hours, ach, just nice to be up there at all.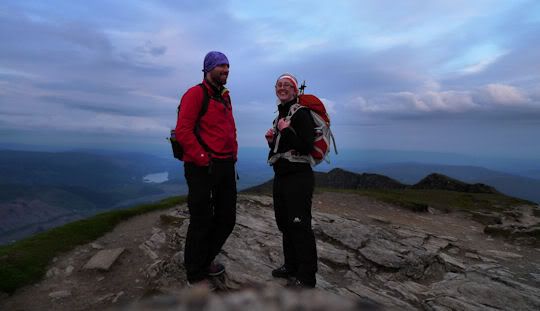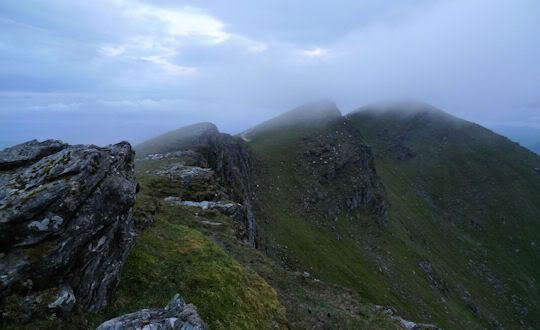 We had a fine bimble down the tourist path to sound of some very strange wildlife in the heather, and then of course the other wildlife that was waiting for us at the treeline. I was back in short sleeves by them and the wee bastards descended upon us with a vengeance. Today I itch in many places.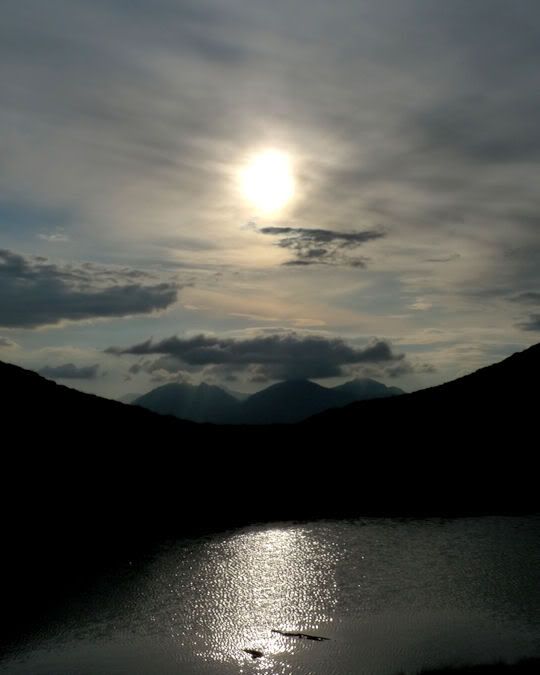 Farewells were hurried at the carpark, midges and midnight will do that to you. The next stop was the garage where I purchased Irn Bru and milk. Both vital components.
A fine evening indeed, strange not to be lugging a tent, and good to be on home ground. I think Ange enjoyed it, although she was clearly worn out by my constant supply of information and relentless pointing at stuff. She'll learn to shut it out like everyone else I'm sure.
Schoolnight mini-adventures, alright!