It's like visiting a friends house, or your granny. Sure, it might not be exciting this time, it might just be cuppas and some telly, but you know that you'll be welcome, time will pass at whatever pace it likes and you'll be immune to any outside influence or interference for the duration.
I watched the mix of snow flurries and sunshine, looked at my watch, filled the kettle to make up a flask. I was heading to Ben Lomond for my first visit of 2010.
The pure white summit ridge swings in and out of view all the way down the road from Drymen, and never seems any closer. It's a big bloody magnet, and it's pull on me has never lessened through the years.
I changed into my big thick socks and boots(?!), pulled on a windshirt and headed up the tourist track. It's been a couple of years since I climbed Lomond this way, and as good as the Ptarmigan ascent is, the views this way are different and I was already enjoying myself as I cleared the woods and stepped into the breeze and cool sunshine.
I met my first descenders of the day, a couple who'd not made the summit, but were just out for the joy of it to see what lay up the track. As with most folk I meet on the hill, they were immediately concerned for my well-being as I was walking in the wrong direction late in the afternoon. I explained myself.
The next meeting was one which will stay with for quite a while. An auld fella was coming towards me, and my first thought was "What the hell is that on his nose?". It was a bit of tissue to stem the blood.
"Have you taken and tumble?"
"Aye, my crampon came off…"
I surveyed him and my mind raced through the options as I questioned him. He was worried that he'd burst hid cheek, but although his face was swollen, he'd just skinned it. The only blood was from his nose and it looked to be stopping. He was having black eye today as well. He was lucid, sharp in fact, and was moving well.
"Come on, sit down and I'll get you cleaned up"
"No, no"
"Well, let me walk you down then?"
"No, no.. I'm fine…"
He was edging past me at this point. I let him go. It went against all my instincts, and all my standards as an interventionist, but I watched him walk away.
You know what swung it? I reckon he was well into his 70's, he had a mix of gear from recent to old-school, I reckon he'd been in the mountains all his life. He'd taken a tumble and he'd picked himself up, sorted himself out and was making his way home. If I'd taken over would it has broken his confidence in his lifetime of experience? I just thought of him staying home next time because of his memory of this "young" fell taking him off the hill.
I felt queasy, it was a very emotional moment.
I watched him descend into the dip where the little bridge is, emerge onto the track at the other side and motor along, as he faded from sight he was almost with the couple I'd met earlier.
I don't know if I did the right thing, and I don't know if I'd do the same if I had a second chance.
The next group I met were instructed to watch for the auld boy as they went down. Soothing my conscience or taking precautions? At that moment I wasn't sure at all.
The next pair were a couple of retired boys, using their free time to good effect with-weekly hill trips. We shot the breeze, talked gear and hills and it lightened my mood.
I went a little farther, but with losing so much time the light was fading and it was time for dinner, and it was time for crampons.
Now it was snow and ice and wind. The moon came out, but it's bright, clear light was cold and the insulated jacket I'd put on when I stopped had stayed on as the wind fired spindrift into my legs, my mitts stayed on as my finger tips nipped and my face stayed covered as every inhalation ran sharp fingernails over my fillings.
The cloud was patchy and fast moving, the snow was hard and my spikes cut into it very definitely with every step. My headtorch was still in my pocket, the moon cast my shadow long and well defined in front of me as I traversed the wonderful summit ridge.
The trig point was iced and exposed, it was so cold on the summit. A quick refuel and I descended to the little coll to watch the camera constantly get blown over into the snow. But I did get the chance to play about a little.
It's funny how a long exposure makes the city lights look so bright, it turns Lomond into an urban peak. But standing there, they're just tiny twinkles to the south and don't feel intrusive at all.
I took forever to descend. And tired eyes and some patchy clouds brought out my headtorch.
Eventually all the cloud disappeared, the moon rose a little higher and the wind sunk a little lower. it was beautiful.
I pulled up a rock and finished my flask. I had a lot to think about. I often say how easy what I do is, how accessible it all is. But the mix of people I'd met and their varying fortunes had reminded me of how relative it all is. We can all make mistakes, experience isn't a bulletproof shield, we can all find ourselves out of our depth, and we can all find a little victory from reaching a level that others would scorn at.
So I don't think there is a right or wrong, or if there is it's just applicable to you yourself. What's maybe universal then is the need to have an understanding for the "other"?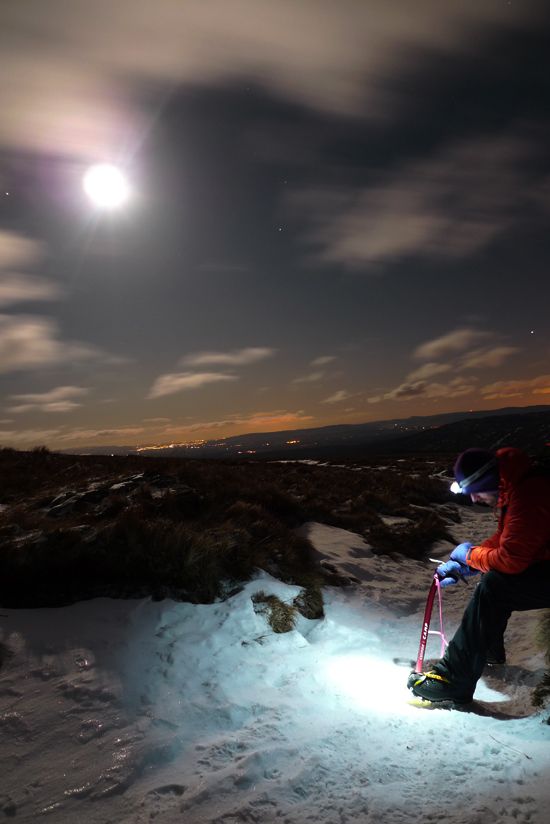 The carpark was deserted and pitch black. My feet were glad to be back into trainers, and suddenly the most important thing was hot food. I hadn't realised it was getting so late.
Is a McDonald's a guilty pleasure? I was the last customer last night, they'd put the cat out, turned down the duvet and were about to lock the door and turn the lights off when I appeared at the counter. I half expected them to just say "Here, just take the assorted lukewarm foodstuff that's left with out compliments and give us peace".  But instead I got a Big Tasty with Bacon and onion rings frshly made and fries still with a bit of crispiness about them. Nice.