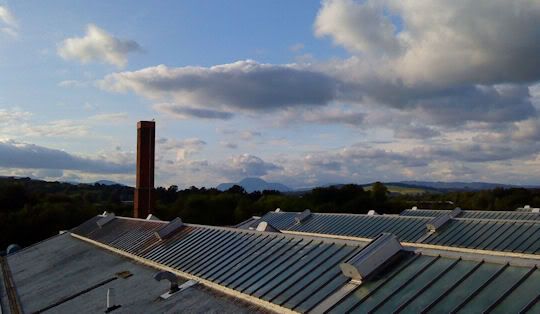 The roof hasn't been so bad, I could see Ben Lomond from it. I think that might be me just about wrapped up though. Sunday this week will be Sunday, not a miscellaneous weekday. I'm tentatively predicting a leisurely breakfast followed by sitting on chairs, possibly succeeded by mild activity of some sort with the girls.
Regular visits to a place, especially when they're months apart, are a wonderful way to mark the passage of time, but it also makes other changes very visible too, news stories spring to life, like the "financial crisis" for example. Changes of use in buildings from factory to storage, those ubiquitous and very noticeable cutbacks, the knock-on effects like cafes closing and things not getting painted.
It's a cycle, things go up and things go down. It well get better but we'll still lose things that we won't get back, and with it the accumulated knowledge and skills of generations.
I like tomorrow, but I remember yesterday. Aye, we had rickets, poor housing, lead in our petrol and only three channels on our tiny tellies, but we were good at stuff. Maybe even the best.
Even the buses are sad.