Prologue
Linda's new job has her covering a large part of Scotland, everything south of the Great Glen in fact and it will mean occasional multi day stays anywhere from Arran to Ardnamurchan. This is magic of course but having spent many nights of my working life in hotels as an engineer or in a tent when I was trying to keep to a schedule doing monthly mountain routes for Trail mag when Holly was wee, I totally got Linda's worries about the downsides. Every adventure is time away from loved ones and home comforts.
So the obvious answer is that I'd go too, the joys of being an freelancer, my work is where I am. Sort of?
The Kintyre peninsula was the first destination, as the crow flies not so far at all, but by the winding west coast road it's a three hour drive to the hotel in Campbletown. Linda worked out her meetings schedule and I got to researching what to do over the three days I've have to myself.
There are a lot of places that catch the eye on the map, so much coastline to explore, but a lot of miles to cover and getting there and back from Campbeltown (no tents on the the trail here, dinner with my girl by the seaside was a big part of the plan) on public transport was going to be a problem as buses are few and far between and bus stops an endangered species.
The Kintyre Way kept coming up and it seemed the logical option to walk parts of it if I could link up the transport. I got my plan pretty well set with times, distance and gear in mind, I was ready to go.
The drive was lovely, quiet roads and familiar sights until Ardrishaig where familiarity faded into exploration. I haven't been down here in many years and it was all brand new for Linda.
The sun setting beautifully over Islay and Jura was the perfect welcome. The hotel wasn't far behind the view, friendly and helpful, in Scotland?
Clean white sheets, an open window, the sound of gulls and an early start after along drive. Night night.
We were up in plenty time so there was no rush and plenty time to wander down for a hot breakfast. I was packed to go apart from my pieces which the nice lady at reception had arranged for me with the kitchen when we'd got in the night before. The cheese and ham on white bread they made for me would taste like the food of the gods a few hours and some miles later.
There was a bus at five to eight and one at eight, I'd get a seat on one of them surely? I'd figured on the first bus being the busiest so I was aiming for the second.
Breakfast was lovely, it was bright and calm in Campbeltown and I skipped to the bus terminus with a grin, a flutter of excitement at heading into adventure and a wee kiss from across the breakfast table lingered on too. The bus terminus was empty, I checked my watch, had I missed it? I walked across the tarmac as a bus pulled in "444 Southend" it said. All was well.
"Morning, thought I'd missed you there. Where's the queue?"
"Naw, no queues on this one pal" he chuckled.
He was right, we picked up one old fella in Campletown and that was it all the way to Southend. Southend, did a committee come up with name?
The journey was an experience in itself, ten miles of undulating countryside and twisting roads and I'n picked one of the high seats at the back axle so I could get a view. It was somewhere between being on a roller coaster without being strapped and standing drunk in the crows nest on a north Atlantic whaler. Hilarious.
As the ten mile journey came into the suburbs of Southend I wandered down to the driver as my sole fellow passenger got off at the post office and ran for his life. He was a chatty, friendly young fella and he filled me in on a bunch of local info. He took me along the road a bit and set me in the right direction before he swung around to collect his real passengers, the high school kids heading back to Campbeltown. The little black clad figures appeared from all over and scuttled to the bus. Hold on tight kids, scream if you wanna go faster…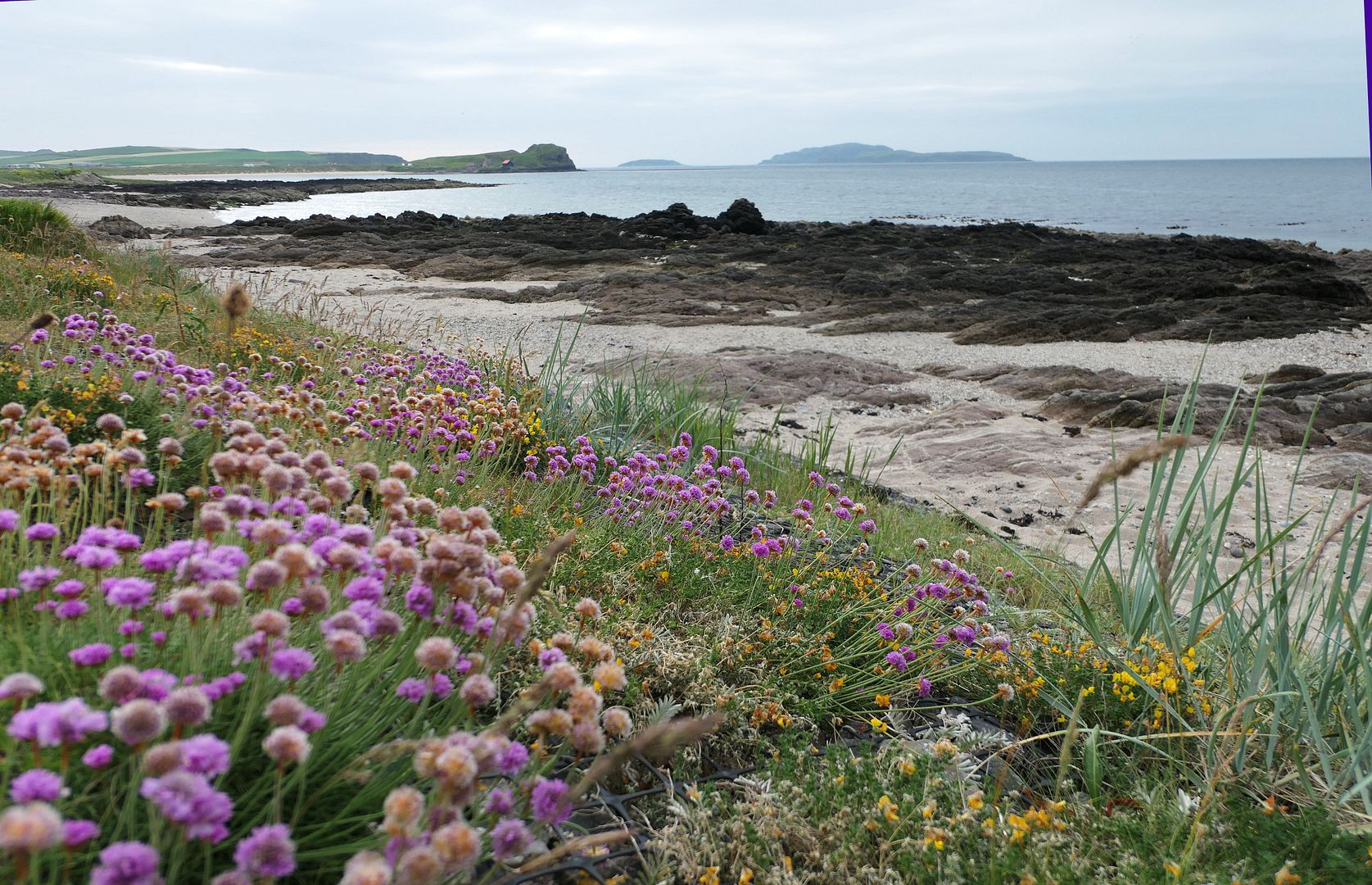 It's a lovely spot, maybe a bit desolate in the cool grey light and actually rather chilly breeze. It was only half eight though and it would warm up at some point, we were in the middle of a heat wave after all. Still, I rolled my sleeves back down.
I checked the map, looked around and headed along the edge of the road. It's a cliche I know, but you do know when someone is watching you. I stopped and looked around. There were eyes on me indeed, many eyes.
I wandered a little closer, not enough to make them shift their blubbery butts, just enough for a whisker twitch or two. Lovely to see, maybe ten or so seals on the mini island just off the beach.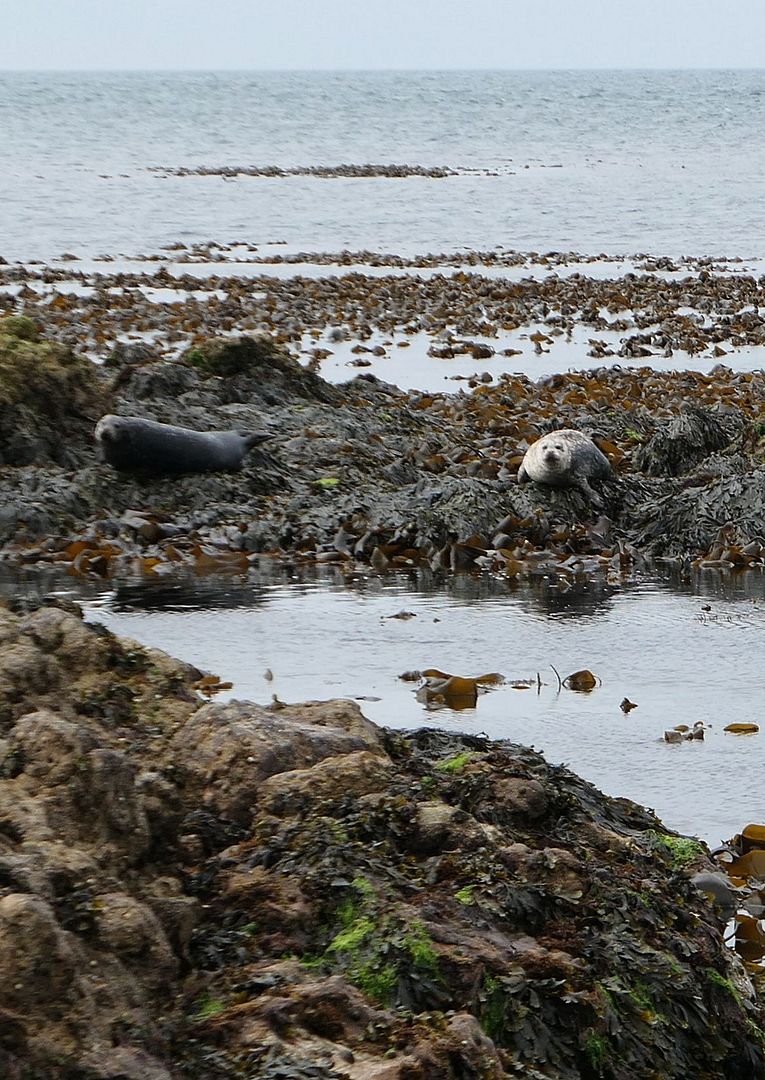 I carried on through the village past some ruins and the art deco hotel which is now wind and watertight with plans for a full restoration. back in the day the rich and famous played tennis and swam here. No reason why it couldn't be full once again, you can fly here for as cheap as driving. And there are buses of course to link you up.
The driver had said he'd probably catch me later as he was on the Machrihanish run in the evening, which is where the airport is. It occured to me that I was a great many miles from that and I was literally fannying around in Southend and eating into my walking time.
I'd better get going, oh wait what's this?
I love old hand painted signs, it's almost mandatory to investigate where they point to. Here it's deep Scottish history, St Columba's footprints carved into the stone, his well and the church built on the site.
You can see Ireland from here, even on this hazy morning and it would have been a fine boat journey on a good day to land on this shore in 563CE and from that moment the future of this land changed course. Christianity would spread and a new name would come with it as the Scoti displaced the picts with religion and sword over the centuries to follow.
The ruined church is centuries later, the graves later still, but it's an eternal pivot from which this nation still swings dramatically. The streets of Glasgow this July bear witness to that.
I could have spend more time here, lost in thought, but I was getting nowhere, fast or slow, I had to get moving.
I think I got 100m before I was over another fence and all excited to explore.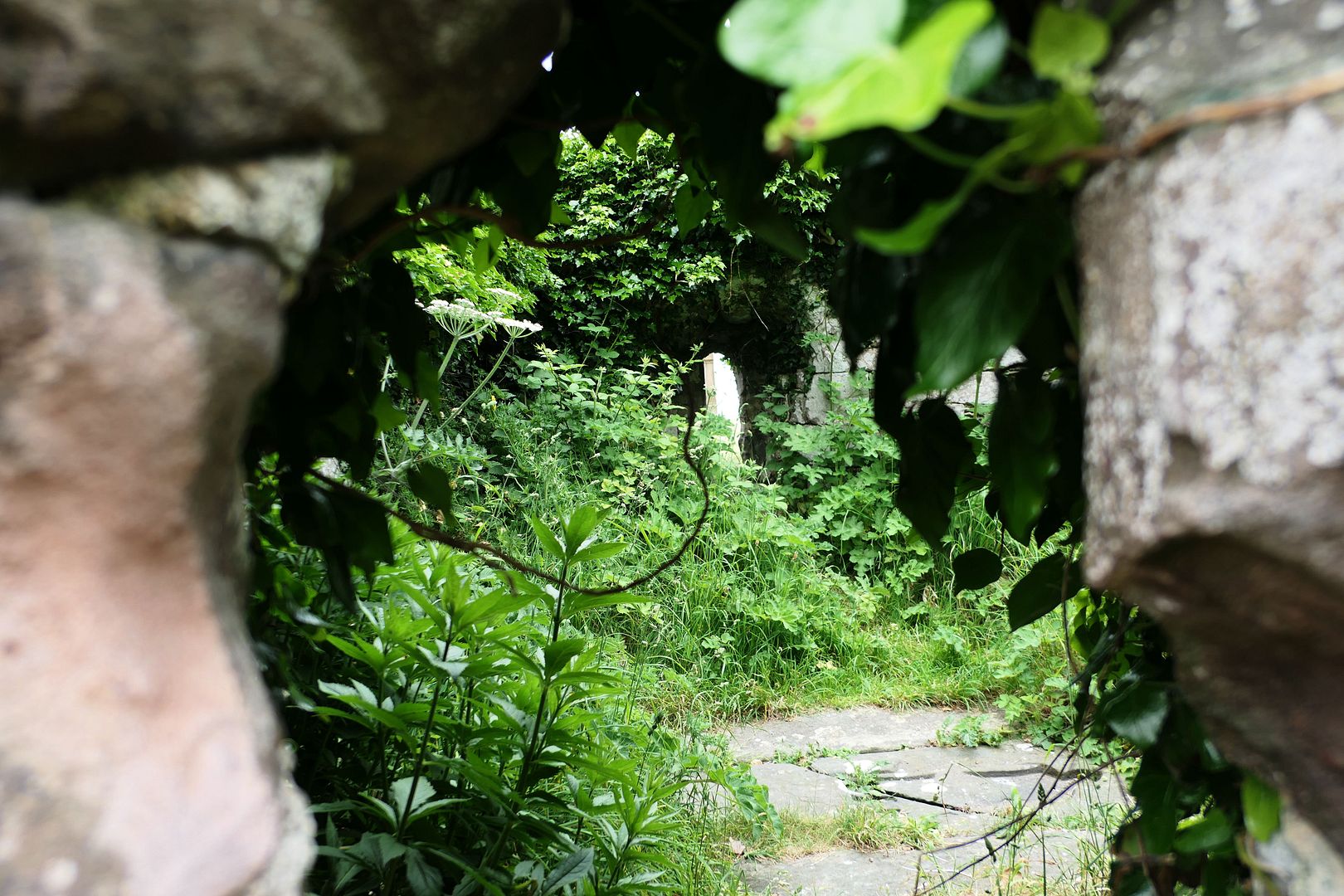 The Keil Caves are excellent. Dark, accessible and full of pigeons who flutter and coo spookily above you in the rock.
I walked out slowly, trying to ignore the overwhelming aroma of pigeon shit and looked at the map, I really had to get on with this. I zoomed out and realised I was something like 60 miles south of home. It's odd after all that driving into the hills and not being in the Highlands at all. But it's glorious and I'm thankful that we turned our sights to "anywhere" rather than always north on the A82, this wee country has wonders in all its corners.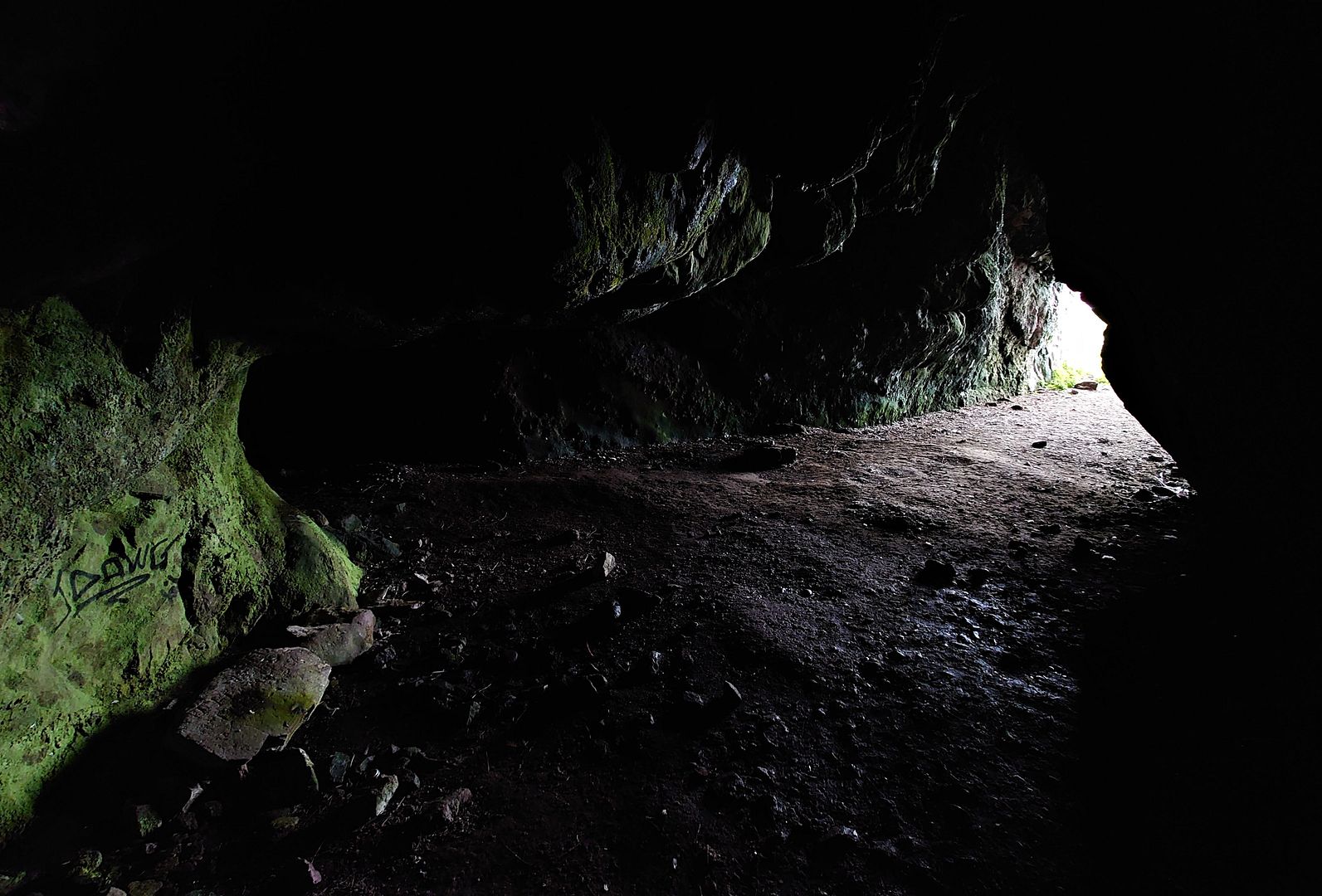 For some reason I thought I was walking along the beach, but the route goes sharp right inland. Bummer. It was still cool and I kept a good pace to keep warm. I was on tarmac B roads so as straightforward as that seems, I quickly got achy in my hips. I was distracted by the inhabitants of the fields which kept me amused though. Daisy here recommended some fine Kintyre cheeses from both her and her friend Mrs Goat down the road.
It's a pleasant walk through farmland and traffic was very light, a couple of cars and the occasional farm machine whose size and demeanor kinda demands you dive for cover rather than step onto the verge.
The lovely carved blue way markers came and went and they're marked for distance for travelers in both directions so I was ticking off the miles at a decent pace.
I won't lie though, when it came time to turn off the road at Amod Farm I was really feeling it in my joints: hip, knee and ankle. Not sure why I was feeling the strain, it was still cool, I was packed light and I do a lot of miles on similar terrain so there were no surprises. Maybe the drive up?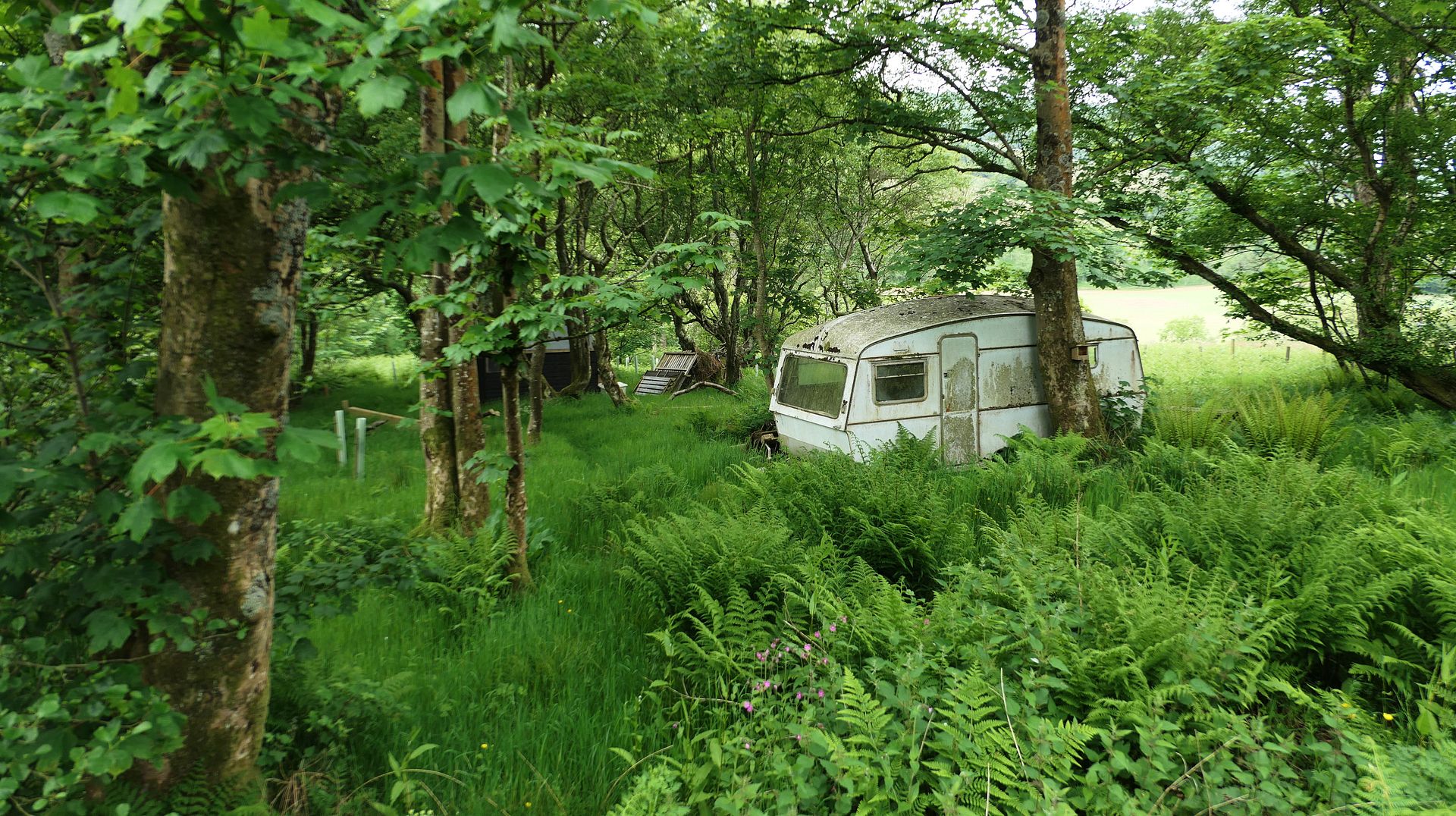 I covered a couple of hundred metres on a grassy path and felt so much better, the more random and softer surface loosened me back up and when I hit the grassy ascent of Amod Hill over the stile I was all smiles again.
I had my map in hand, phone map that is, I use the OMN3 from Anquet app now which is normally fantastic for me, but later on my downloaded maps weren't loading leaving me slightly annoyed. I only remembered this just now as I was writing, I'll need to follow up on that later.
Anyway, map in hand… some navigation is needed on the route as the markers are a little sparse or missing or in unexpected places, all of which is fine by me, nice be putting a little thought into my progress along with leg power. It also gets this initial ascent out of the way fast and I found myself on a rouded ridge spattered with cottontails. It was lovely.
The picnic bench was something of a surprise but I took full advantage of it and had a cuppa, some of my pieces and a bit of a time out gazing south across the sea. That was a good bit of distance covered already, I could see the route from here. They grey was lingering but I wasn't unhappy, it was keeping it cool and that was okay.
The map showed me interesting things lay ahead and it was lighter feeling legs that set off to find them.
It's a grassy ridge with a glen on one side, plantation on the other. It's very quiet too, there's really nothing and nobody around here and the gate that marks the perimeter of the Largiebann wildlife reserve is fading to blend in with the local style very nicely.
Are the piles of posts on the other side an unfinished new fence or the remains of an old one? The hill is slowly claiming the wood back so we'll probably never know.
It was a shock to the system landing back on a track after a long descent though the heather. "Like jumping in the van, turning on the ignition and dance music coming on full blast from the radio" was the comment I made later.
The tracks was worn and little sued though, so it was okay and I made quick time on it, the coast was finally getting closer. I met a few natives on the way, two horses, a dappled grey which wandered off disinterested and this rock star who just wanted to have its photie taken. They must have a home somewhere near I suppose, it's a helluva garden to play in whatever.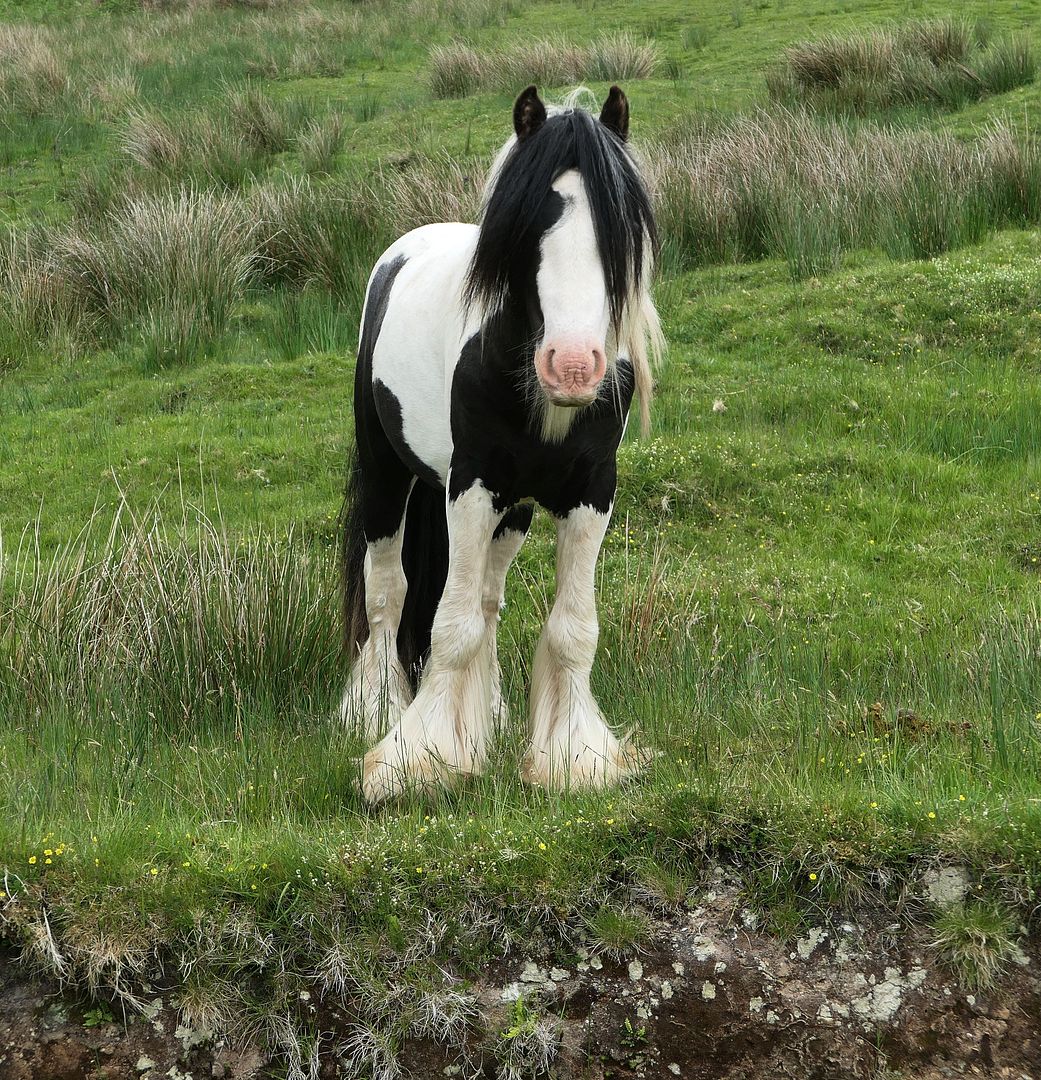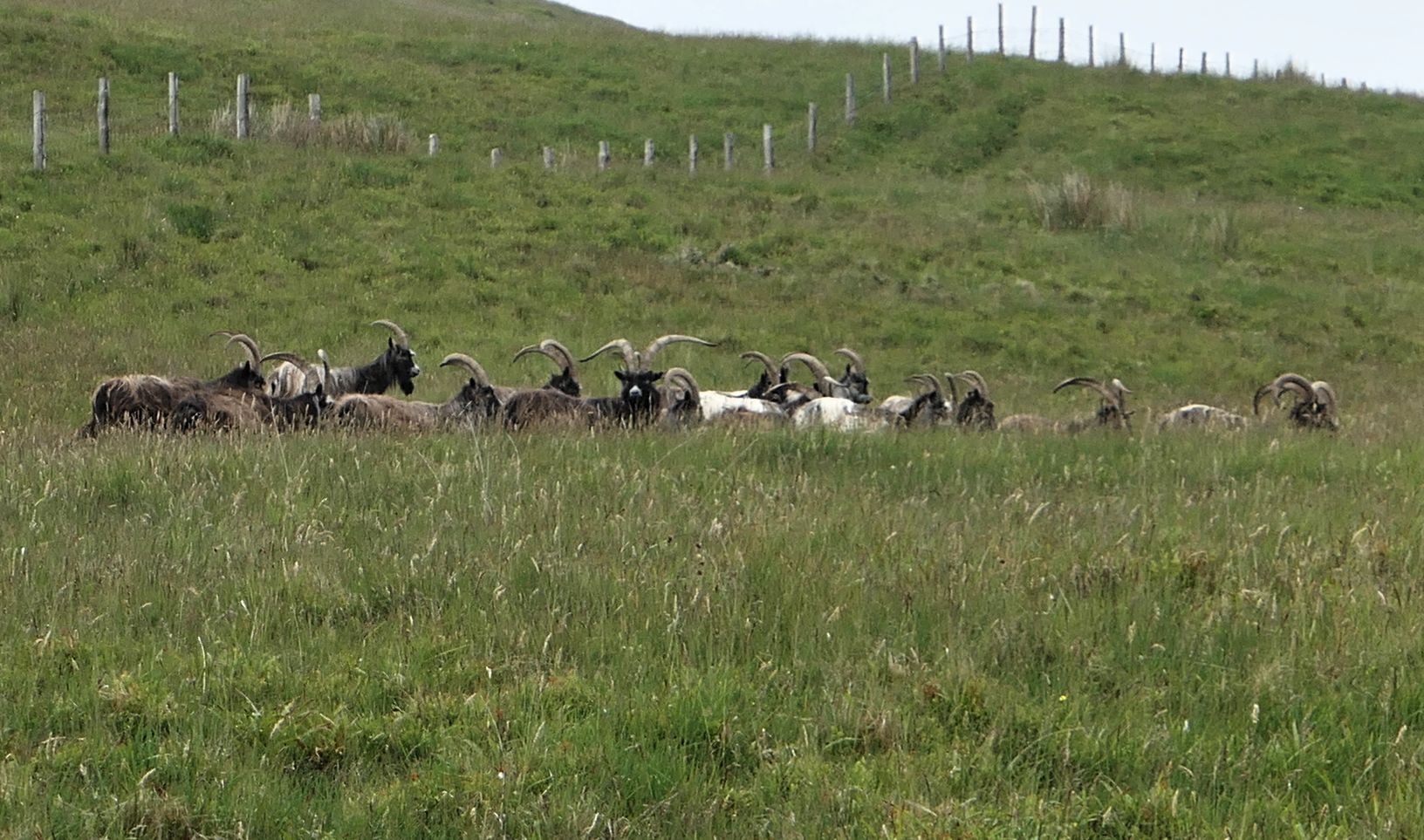 Finally I was clear of the trees, the horizon was changing, now the heather dipped towards a hazy line of white, grey and blue where the sky met the sea and the air was different too. The fresh spring in my step was heard before I was seen no doubt and the locals didn't know quite which way to run.
The girls milled around waiting to see what was happening but Billy? He just ran for it, straight over the fence and away down the edge of the cliffs "See you later girls" I heard him mutter as put self preservation ahead of family and social ties and niceties. Smooth Billy, very smooth.
Don't try and do a cool pose, no one is impressed, least of all everyone you left behind.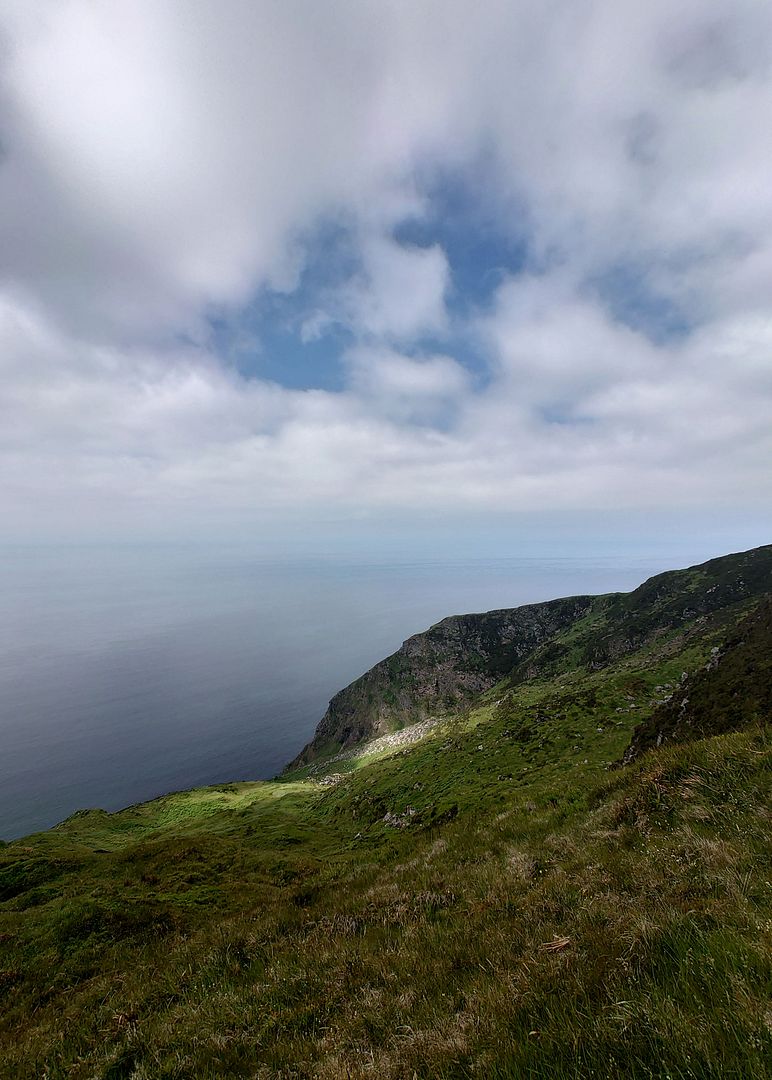 I reached the cliff edge and a coire like crag ringed bowl lay below my toes, Steep heather and grass with deep blue and green water far below. The water lost it's colour as I followed it westwards where it joined the sky invisibly and above it pure white cloud blossomed lazily over a bright blue sky trying to burst through to the north.
The sun was now fining gaps and patches of light flitted across the cliffs. It was stunningly beautiful and my single though was to chase that patch of light as it ran north over the rock and heather.
It got brighter as I climbed the edge and I found myself stepping from one world to another. On Binnein Fithich I stood at the edge of the curtain that was drawn from the Irish Sea up and over the Mull of Kintyre. Ahead were clear blue skies and sunshine, behind the grey haze. I've seen weather fronts moving from the hills in ways you never see at sea level many times, but never have I seen quite such a static yin and yang oddness.
As I left the cliff edge after some exploring I walked from my misty, cool, grey morning into a hot, sunny summer afternoon.
The next few K's on the steep, broken cliffs surrounded by insects, flowers and the occasional goat were some of the nicest trails I've ever walked. The views are incredible, but the trail twists around the terrain, up and down, out and around in ways that are just pure fun to be on. I could have spent all day on that section and I would have been sad to come out onto flat grass if there hadn't been more stuff to catch my and imagination
The way to the cove has a very steep descent indeed and in the dry conditions there was some skating on the dusty track through the bracken.
However I arrived at the bottom mishap free to the sound of waves crashing onto the beach and a sea breeze cooling my skin under what was now a blazing sun.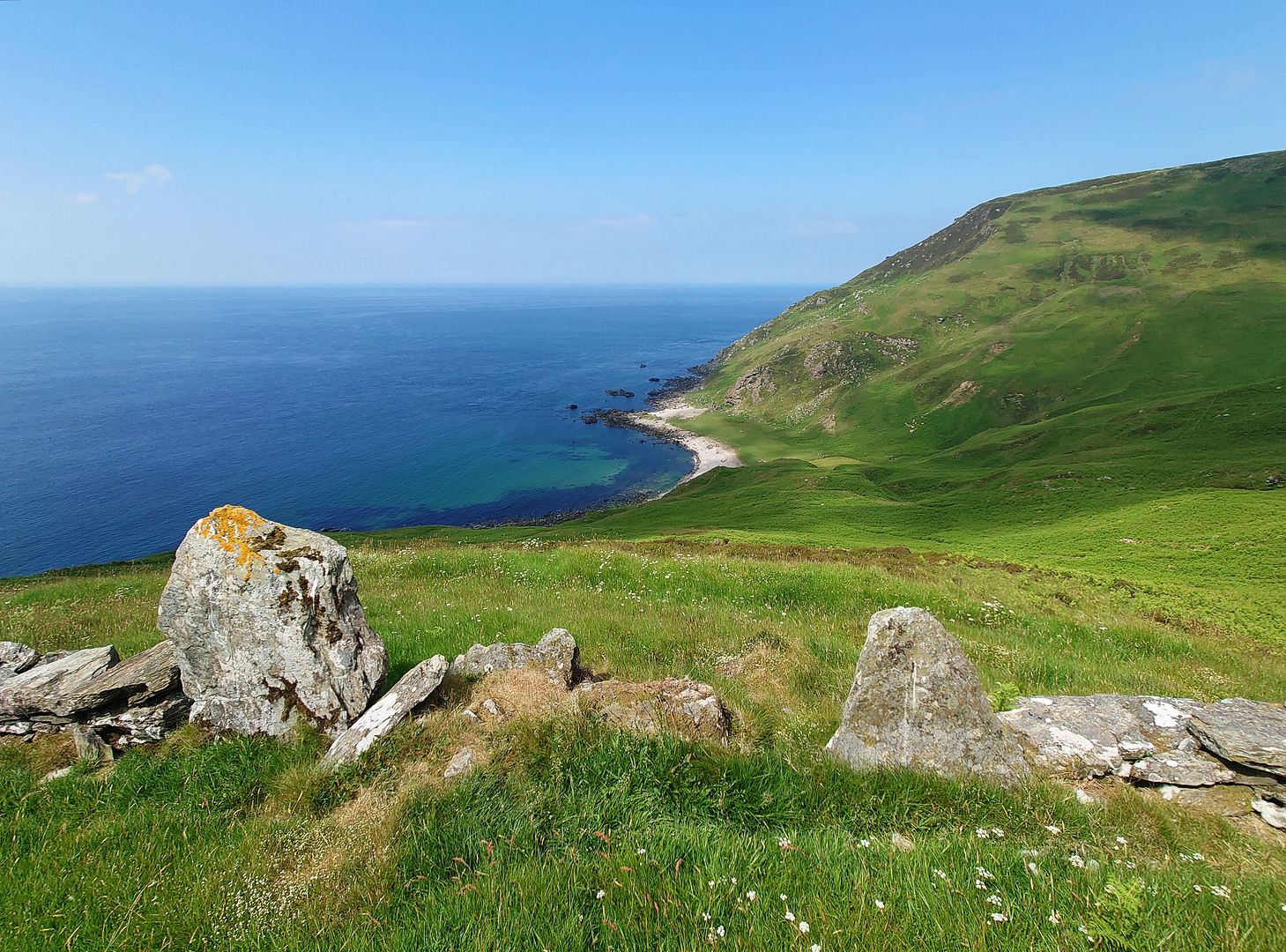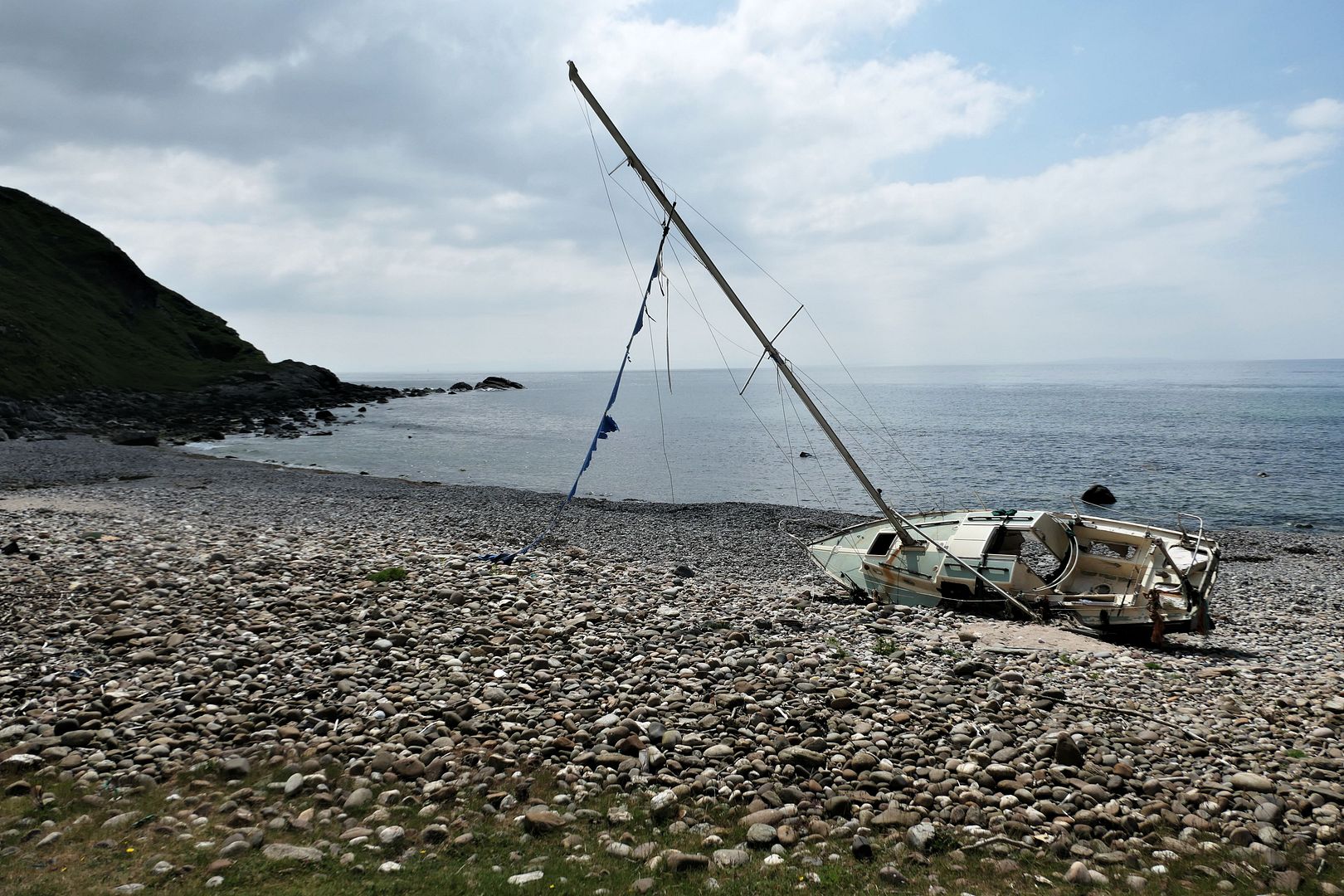 This shipwreck isn't on anything I saw in my pre trip research. The contents are sorted out on the shore but the hull is pretty much Ben Gardner's boat from Jaws, so I did approach the hole in the hull with the caution of my ten year old self. No head and googly eye, ah well, the sheep skull on a stick will have to do for atmosphere.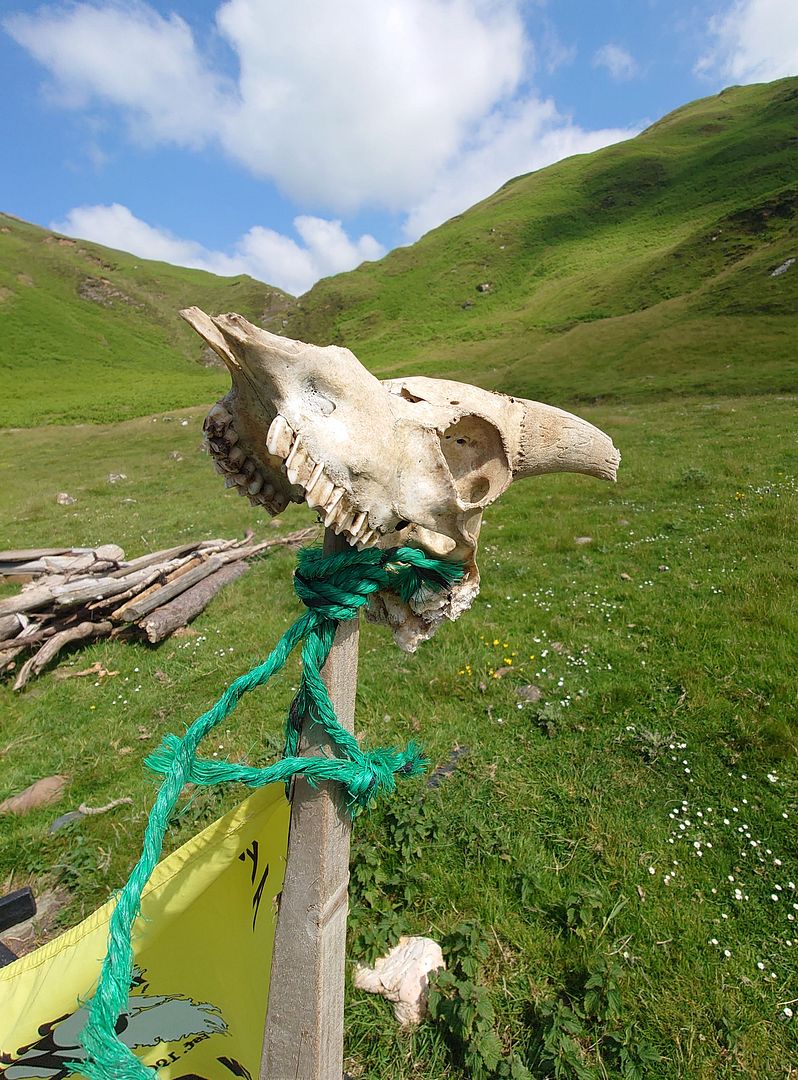 The water was cold and glorious on my warm feet. I ate the rest of my pieces, had a cuppa and a pastry and sat. Then I sat some more with just the diversion of sun cream application.
A rumble in the rocks revealed some sheep but they were my only company. There is no one here, no one anywhere, if it's a quiet walk you want, this is it. Imagine this cove being near a road? No, I don't want to. Praise be that some wonderful places will remain hard to access for the motorised wave of stupidity that now visits our outdoors.
I stayed a very long time. It was complete peace here and whatever worries were waiting for me back in the real world had no weight. Even now a few weeks later I can feel it.
One of my favourite places now.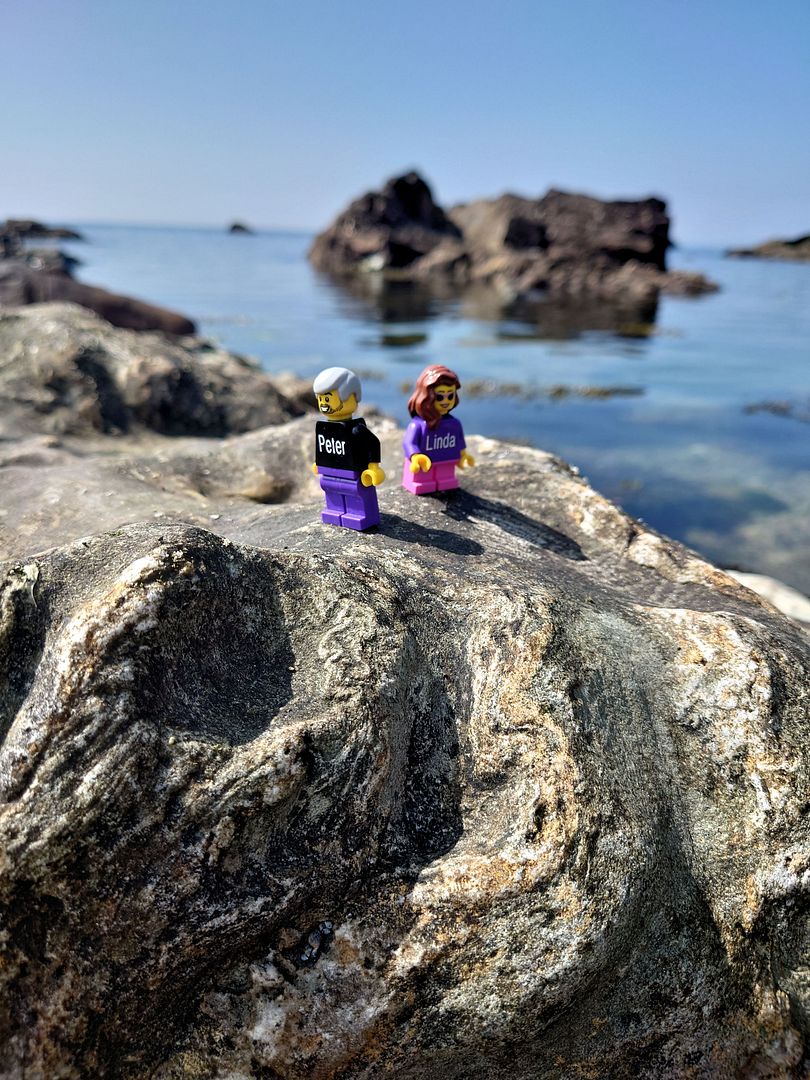 Linda was with with me, always is, but it's nice to get a photie to prove it too.
Innean Bay also has a somber side. There is a grave on the foreshore in which lies the body of a sailor washed ashore in 1917. The sailor's identity remains unknown but the grave is tended and has seen several crosses erected over the years as the Atlantic winds wear them down. There is a simple inscripltion: "God Knows".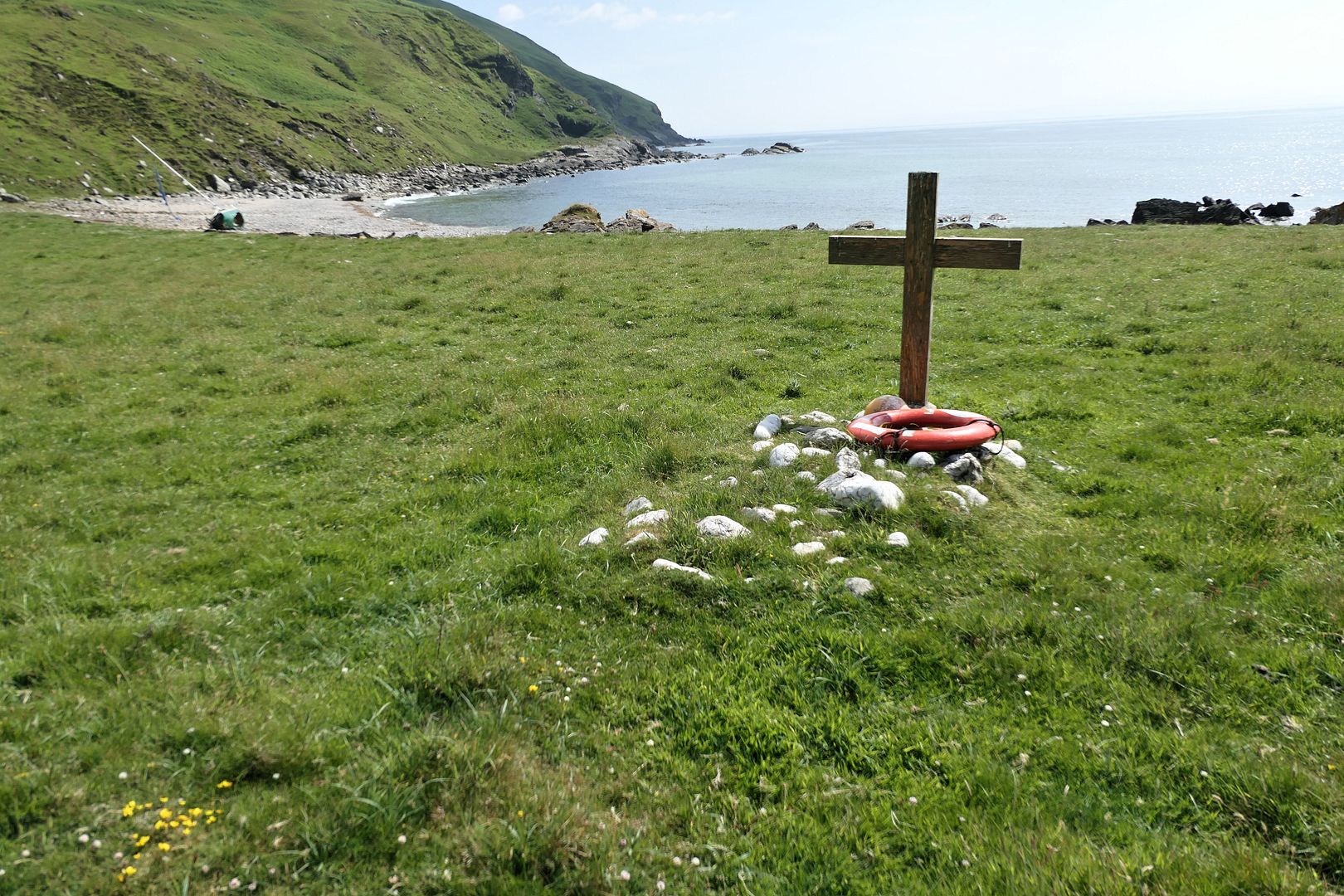 The rock scenery is beautiful but the ascent up the glen side is as steep as it was coming down and there were many rests on the way up. It was now also searingly hot. The light shirt and wide brimmed hat were the perfect choice, however chilly I'd been in the early morning.
The trail meandered through the heathery hills and took me away from the cliffs. The blue posts scattered along the faint path and the mile markers now showing numbers that were getting close to home.
I was warm, but had plenty to drink, I'd done a good distance but I was feeling strong. The trail was good and I was content. A feeling that I think is worth its weight in gold and the hardest one to achieve. I can get you wonder, excitement, awe, even fear five minutes from my door, but contentment? The rarest and most precious of feelings. Hold its sources close to your heart.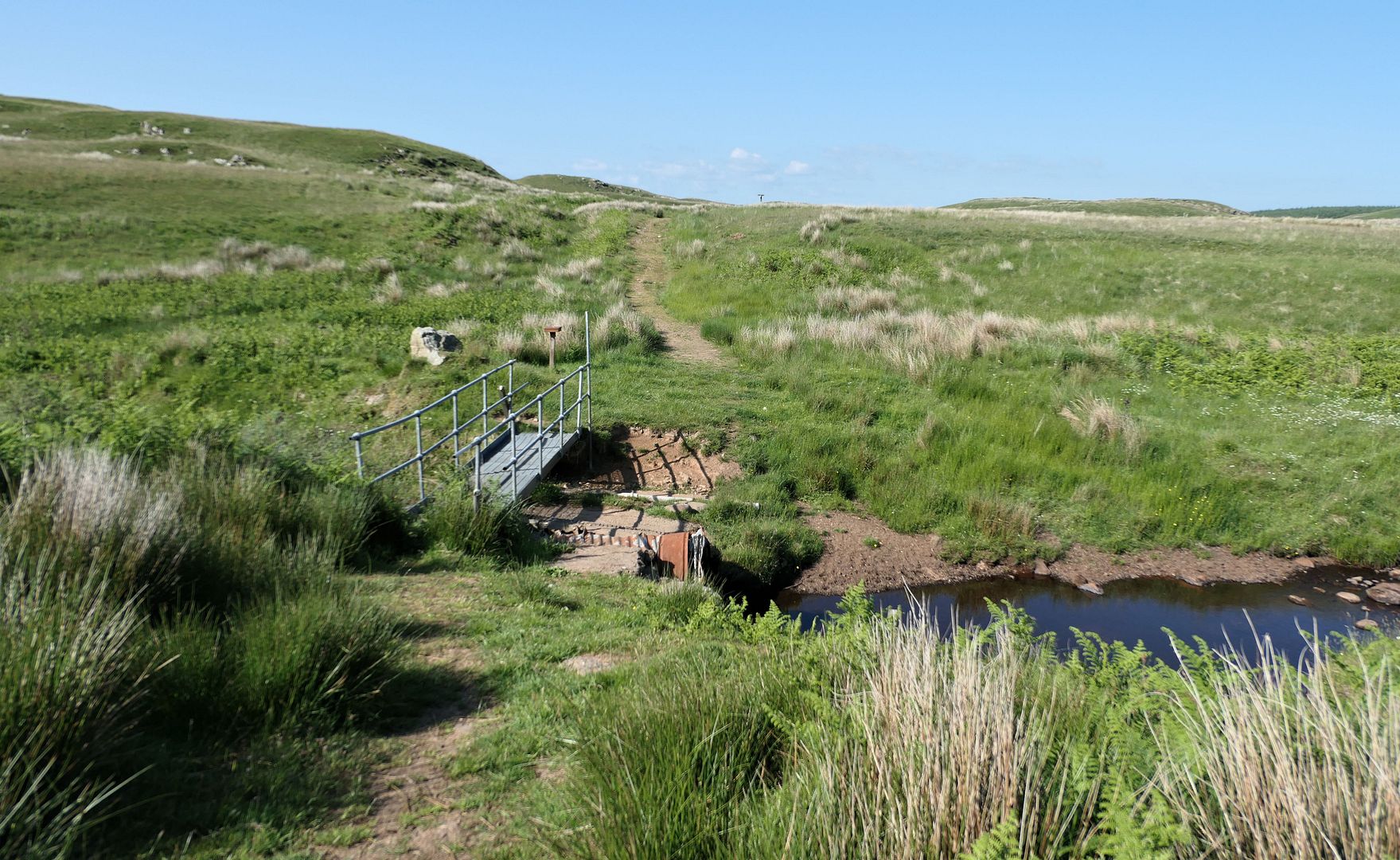 Near to Ballygroggan after a little bridge there's a metal box on a stand that just needed opened. What joy there was when I saw a visitors book full of stories and quotes from Way walkers or cove visitors. I looked and looked again, no pen and no pencil. These words will have to do. I'll remember next time.
I was getting there now, I could see the wind turbines, soon a mast above the trees, the beach to the north and then the sound of aircraft. Machrihanish.
My phone rang. I frowned rather than answer it, the spell was broken, I'm back. But that's okay, and I was a happy voice on the line anyway.
I'm just walking down to Machrihanish, want to meet me there?
"How long will you be?"
An hour at most, bring cold juice!
"Okay honey, see you soon"
I was back on old broken tarmac but there was no grumbles from my legs, I was in good working order, I could have just keep walking. I even laughed out loud as a deer hid in a sheep flock, I mean it was actually ducking so I wouldn't see it.
The hour at most went by pleasantly and quicker than expected, and downhill in the evening sunshine all the way.
Sorry bus driver, I missed the return trip, I just could get leave that cove.
Epilogue
Linda met me at the seabird observatory building and we drove round the corner to play on the beach for a wee while and cool our feet down. We'd both had a good day and now we were thinking about food.
Back in Campbeltown we ended up getting take away from the lovely Taj Mahal and sitting on a bench by the harbour in the evening sun eating and enjoying some banter. It was lovely.
Also, I really couldn't have kept walking. After a sarcastically soapy bath at the hotel I think I was asleep before my head hit that cool, cool pillow.