There wasn't much new on the Fisherfield trip, after my down time I think I needed familiar stuff so I didn't really have to think or worry about anything at all given the miles I was covering.
Mountain King sent up a new set of their brilliant Trail Blaze poles, now in a coppery-orange colour, and taking these out was comfy and familiar. Nice to be using a completely straight pair again and they are a handy device for keeping your flysheet door open, I'll need to do a photie of that some time.
The Berghaus Asgard Smock is the eternal talisman of good luck for me, every time I pull it out of my pack the rain disappears, I'm glad it's light as all I ever do is carry it, poor thing.
Took a warmer sleeping bag as frost in the glens was forecast, shouldn't have bothered as I was roasting, the PHD quilt would have been perfect, could have stuck a leg out the side to cool down. Next trip for sure.
Wore my new berry coloured Chocolate Fish Taranaki t-shirt which was a joy as expected, comfy and stink free despite being attacked by sweat in three flavours: exertion; desperation; panic.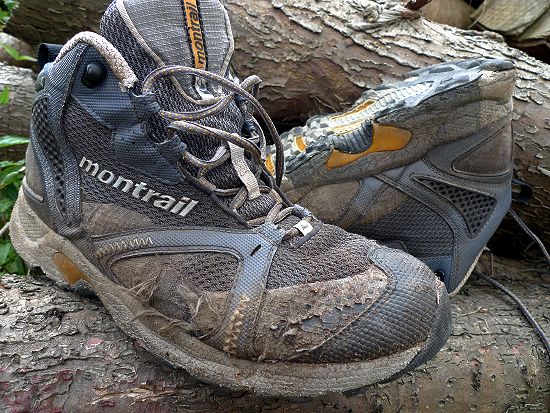 That theory of tried and trusted was pants in reality though, it was one of my most-worn pairs of shoes that caused me the most grief, my Montrail Hard Rock Mids.
Not the shoes fault, they're just past it. The uppers are delaminated in most places, the inner lining fabric is loose and moves independently of the rest of the shoe and the outer layers are detached from each other with some patches of fabric missing now too with a couple of small holes right the way through. The Gore-Tex lining is long gone, as if it's just disappeared, water is immediately felt on my foot wherever it splashes on the shoe.
The outsole is very worn, there's chunks missing and slashes through the rubber with some sections of tread peeling off, but the grip is still good which is a little frustrating. The midsole is crushed and has lost a lot of it's elasticity, it's a bit ragged too. The invisible foot protection plate is still working okay and the general flex seems okay.
The heel cup is fine, and the upper around the cuff and tongue is also fine, it's the most-flexing parts and those in contact with the scenery that are goosed. And the insoles, which look like two bits of old lino cut from the damp kitchen floor of an abandoned tenement.
I've had these for a few years, they've been a regular choice and I think they've lasted really well considering they're just a pair of high-cuffed trainers. I think it might have been the screes of Assynt last year that threw them over the side and it was definitely the wet trek across Rannoch this year that sunk them.
For me it confirms that a lot of the shite talked about lighter footwear self destructing in the mountains is speculation from folk that don't use it, but also that Gore Tex in flexible footwear is a temporary joy. It will not last as long as the shoe.
I'd buy another pair of these if I could, the replacement models just aren't the same.