I'd been planning to go to the Glen Feshie hills all week. Snow, different views, a bimble around Aviemore. This lingering cough lowered my sights daily as it robbed me of sleep, and I was getting to the point where my crosshairs were lined up between my big toes. The non appearance of my aluminium Kahtoolas from their wee trip down to Peterborough appeared to seal my fate and I prepared to sit on the couch and tell lies about what I did later should anyone ask.
But a look the weather, and the continuing Tracklogs ponderation galvanised me into some sort of action. It's not about height, it's not about distance, it's about getting out and maintaining that grin. Carpe Diem (once again). Praise be to Jimmy that I did get off my arse.
I have a love/hate relationship with the A82. It's takes me where I want to go, I've got pace-notes tattooed into brain for the top half of Loch Lomond but it's still the biggest obstacle to any venture up the West coast with random gawping stupids flailing their vehicles around rather slowly all the way up it. Build a bastard tunnel from Balloch to Crianlarich, that's what I say.
Once on the wide road like the ones you get in towns that folk can drive on, the pace was better and I arrived at the Kingshouse carpark in good time and in bouyant mood. I slung the Villain out of the passenger seat and onto the the tarmac and slipped on a pair thoroughly inappropriate shoes for the conditions. Camo cap on, microfleece zipped right up to wave a finger of disapproval at the cool air and I was off up the boggy trail into Coire Bhalach.
It's pleasant going as you follow the Allt a Bhalaich, dancing and hopping over the worst of the bog. The water finds itself flowing over wide slabs of pink granite and hiding in a little gorge, making the most of it's short run to the River Etive. On the top of Meall Bhalach to my right I could hear stags bellowing. I thought they might be replying to my coughing, but something tells me that a young stag appoaching the chief badass of the herd making those kinds of sounds would have to turn round and retreat in embarassment at the general mirth from all assembled group, or possibly get a kick in the balls and told to come back next year when he's grown up.
The sound continued on and off until I got back to the motor. They've got energy those boys.
The path up Beinn a Chrùlaiste from the burn is intermittent and indeed I only found it occasionaly and by accident. Its East ridge is wide and much rougher than the Langranger map makes it look. There's outcrops, and obstacles a-plenty, so walking in a straight line is just not happening. Wandering in and out of the rocks and finding a line through the wee outcrops on wet grassy steps made the ascent a total joy. Looking around I could see for miles, the horizon being formed from peaks so familiar that the names come easy, as do memories of ascents, some going back so far to what seems like another life.
The sky was grey, a thick grey that looked as if it were cast in a mold, not painted on. I felt a little down hearted, although the cloud was high and the tops were clear, a glimpse of the setting sun is worth its weight in gold, the clear patch of sky that closes down like a shutter as the sun pulls the cloud over the horizon with it is worth every uphill step and every item of manky laundry to deal with when I get home.
Buachaille Etive Mor looks at its most pointy from the ridge, maybe from around 650m, there's no view of it quite like it. It stood black and white against the grey. Bugger. I had a drink of Nuun and chewed on a Honey Stinger bar contemplating my position. My legs were out of sorts, too much couch.
The view to the north takes in the Grey Corries, and wel,l everything from Ben Alder to Ben Nevis eventually. But it was the Great Corries and the Easins that cought my eye, they bathed in pink light. This was the only light I could see, but it had to be coming from somewhere. I was above the snowline now and started pressing on, if there was something to see I was damned sure I wasn't going to miss it. My footfalls squeaked into the snow irregularly, I fear my pressing was more of a prodding.
The sun burst throught the cloud behind Stob Dearg, throwing the Buachaille into stark contrast. Alright! Camera oot.
The summit wasn't too far away, but my dreadful fitness, soft snow and my rotating head which was trying to capture all the scenery as it changed around me made the final 100m an epic journey of sideways steps and many utterances of "Crivvens!".
My pack down went down on the windbreak around the fine cylindrical trig point and all my insulation went on. It was a little windy here and bloody freezing too. But the sky was making up for its previous hesitation and put of a fine understated display of pastel colours, swirling shapes and grin inspiring wonder.
As I started unpacking the tent, a couple appeared from the West side and came to say hello, they were equally as happy as me to have caught the sun going down. I was also happy to see them while I wrestled with an unfamiliar tent, they tendered welcome assistance as I tried to find some ground soft enough to take a peg. Frozen turf and rock feel very simiar through snow, so it was a process of elimination. However a happy home for the night was found halfway betwen the trig point and cairn. Many photies were taken, and I hope they manage to find me so I can send them some.
As they left for warmer times and places a new visitor arrived, a Kiwi with a camera to catch the sunset. We shot the breeze for a bit and he headed downhill, hoping to beat the darkness back to the Kingshouse. This hill is popular it seems. It's a Corbett at 857m, and it's also a stunningly good viewpoint for the more photogenic hills. I wonder how many folk are up there to point a camera, and how many are ticking a list?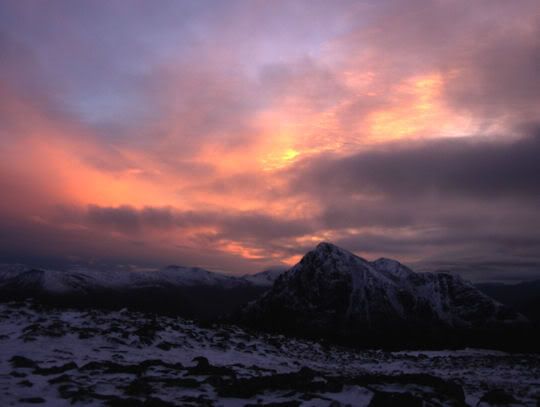 I was there to sleep, and as darkness fell and the temperature dropped I slipped into my sleeping bag and got the business of dinner underway. Melting snow is an incredibly innefficient way of making hot water, but seeing the big wedge of white slip down and disappear into your pot to the sound and soft blue light of your stove is worth the gas just for the pure fun of it. It's easier if you've got some water in there as well, snow on it's own just flashes into steam and you get nowhere fast.
I had dinner, Chicken and Noodle Hotpot and a Farley's Rusk, and then a cuppa and some confectionary. It was pitch dark outside and it was about twelve hours to dawn. Jings.
This is what iPods are for, and books. I was a buried inside my sleeping bag as the air was so cold in the tent. At 2334hrs and I nipped outside for a pee. It had gotten much warmer and the reason was cloud cover. I got back in and zipped the tent for the night and had the strange situation of ice on the tent floor and me stripping off above as I was too warm. The joys of a good sleep mat.
Winds were light and after I finished the chapter of my book and drank the last of my hot chocolate it was lights-out time. I was undisturbed until 0650hrs when the increased brightness popped my eyes open and sent one hand looking for the camera.
On the Eastern horizon a band of clear orange sky was pushing the clouds up and clearing the way for the sun which duly arrived in its own good time. I made breakfast and wandered around the summit in the clear morning air with my cuppa in my hand. It wasn't as cold as last night, but I was still well wrapped up. I spend an hour, maybe more, just watching. Taking the occasional photie, soaking it all in, revelling in the simple and utter joy of just being there to see it.

There were patches of ice all over the summit with dry grippy rocks sticking through, if felt like real winter, not an "early dusting of snow". I kept wishing for it to stay, to consolidate, to be like the old days. We shall see what the coming months bring.
The sun and the clouds played games with each other, the distant peaks of the Lawers group cutting into the suns rays making long dark shadows 20, 30 miles long? The light played on the lochans below like a mirror ball, too bright for me to look at for too long, I just had to hope the camera wouldn't blink as the shutter opened.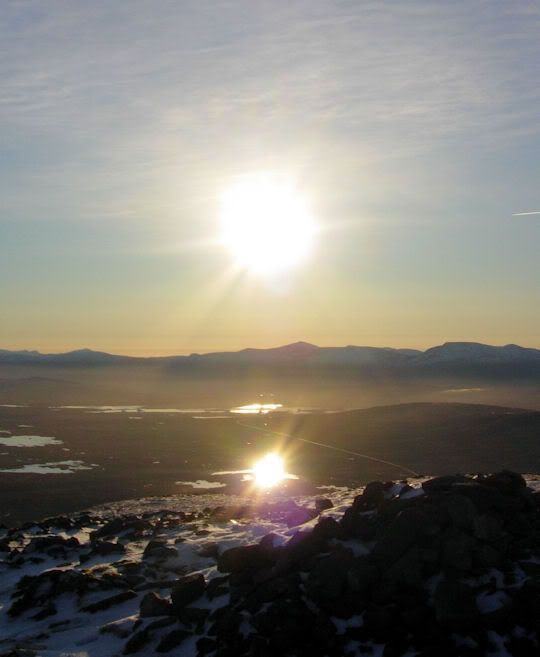 Packing up was quick and easy. It seems I ate a lot stuff in the night, so there was much less going back in my pack which is always nice. The snow was trickier on descent, I think it was softer with the higher temperature so there was a couple of skating moments, but no arse to ground coincidence, oh no.
I think it took me an hour to get back to the motor, and there was no melancholy when I got there. It had been great wee trip and I was happy to be going home to see the girls.
I feel tuned in again, I know what the ground's like. That might sound daft, but too long away from camping on the hills and if becomes a guessing game for gear, route choice and even safety. Regular trips feed information back and make the next trip easier. Easier=less faff and more fun.
Loch Ba was like a mirror on the way back. I couldn't resist snapping the snappers. I do need a proper camera don't I?
Last stop before home was the Real Food Cafe where I had the Breakfast Roll. Not as lame as it sounds, I swear it's 9″ across and had sausges, eggs, bacon, tattie scone, mushrooms and black puddin' on it. I cannot express the emotion that holding that roll in my hand brought to me.