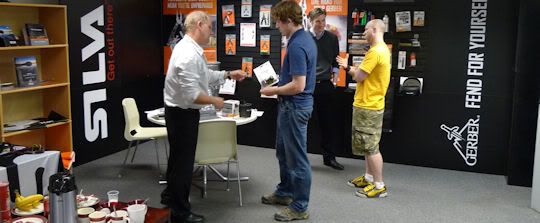 Craig and I went to Silva's secret underground complex to have a look at their gear and some other kit that their rep looks after. That rep is Nick Jupp, seen below clutching a thankfully clean pair of bike shorts, and he's yet another unseen face of the outdoor industry who has to try and persuade the shops to stock the stuff that you and I know is good.
Smartwool
Smartwool all but disappeared a couple of years back, but for 2010 the range that's available to the UK is huge and diverse.
Above Nick is holding the Betasso Short. There's a lot of synthetic in the construction obviously, but the chamois pad is merino wool lined. That's interesting stuff. There's a bunch of bikewear, none of it half-arsed either, proper cuts, rear pockets, roadie style long zips and trail friendly short-zips.
As well as the regular micro/light/mid baselayer styles in short/long sleeve round/zip neck we have new PhD compression performance kit. Craig's got the crew on below, and although it's not obvious, it is a mix of very different fabrics. the long cuffs and thumb-loops are gallus. Good length on the body and arms too.
I liked the midlayer above. Although a merino mid layer will always be heavier, if feels good and performs very well. I've spent a lot of time in one this year and for cooler times of year (so you're wearing it and not carrying it) it's a good option.
There's a bunch of lifestyle kit as well, the t-shirt wit the wee trail map below drew a grin.
There is of course a world of socks, and I have not one photie of them, we were too busy playing with the other stuff like the arm warmers below. For cold biking and running arm and leg warmers are the business, and as you can see they don't actually have to be black.
We're wearing the same beanie by the way, it's reversible. Turning it round between trying it on wasn't a hygiene thing (I mean, neither of us really qualify as having proper hair) it was a colour preference thing.
All good kit.
Brunton
I've mentioned Brunton a few times, and featured the Flex stove recently, but I'm glad to say that the kit is finally actually available in the UK.
Above is the Talon stove and the IB cookset, and these are being bundled as a pack to introduce the brand to the UK. The stove looks nice, has four pan supports and feels okay weight wise. the pans have lovely green anodising, long handles for burn-free fingers and the best volume markings I've seen on a potset. The price escapes for the moment, but I'm sure it was around £20 cheaper than buying separates.
Brunton do a neat line in mobile power (below), both storage and now solar charged as well. Some are tiny and there's some that are expedition-huge.
There's the usual range of sporks and such, but it was their firesteel caught my eye as it has a very unusual striker. No photie, it was still in the packet and didn't turn out. Ach.
Big Agnes
The Copper Spur definitely piqued the interest of lightweight tent fans, but the Fly Creek is a step up (or down if weight is the measuring stick).
It's so light it's almost see-though, but it has the same weather defying shape as the Seedhouse and enough guy points to hold it onto the ground on an exposed pitch. As you see see by the completely natural shot below there's also plenty of room in side for you and your kit. and the porch looks fine for cooking and leaving your shoes and pack in. I'll try and get one out for test, I really like the look of it.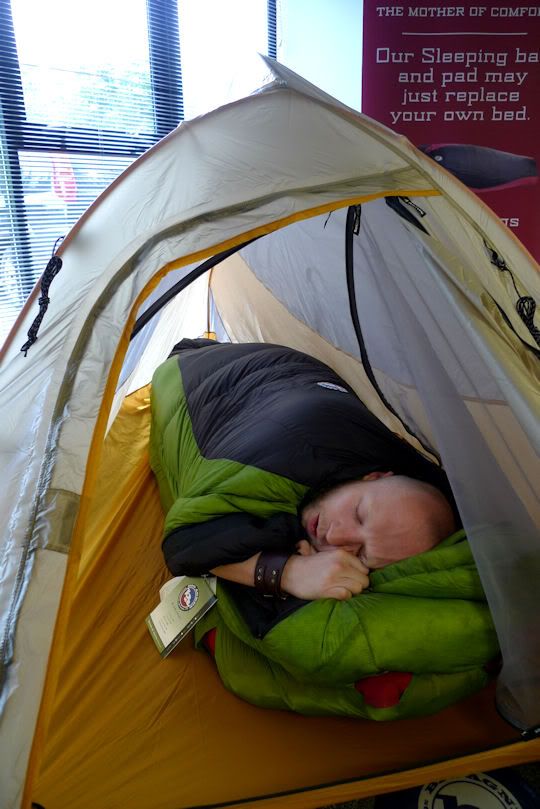 Silva
I've had the L1 and L4 headtorches on test for around a year. The smaller L4 being a favourite for overnighters outside of winter. The general opinion from myself and others seems to be that the functionality and performance was good but the finishing of the product was a minor step up from a snap-together aeroplane (ages 5-12). Well, Silva were listening and the new range is smooth to the touch and sexy looking, but with the technical side still as good or better.
Lifesystems
Lifesystems is a name that's so familiar that you take it for granted, but rather than just sitting there it looks like they're sneaking under the wire with some lightweight kit that's ahead of the rest.
The new Light+Fast medical kit below could be an AMK beater as it comes complete with painkillers, so you don't need to supplement it, it just goes straight in your pack. It's also waterproof, and aye it is light.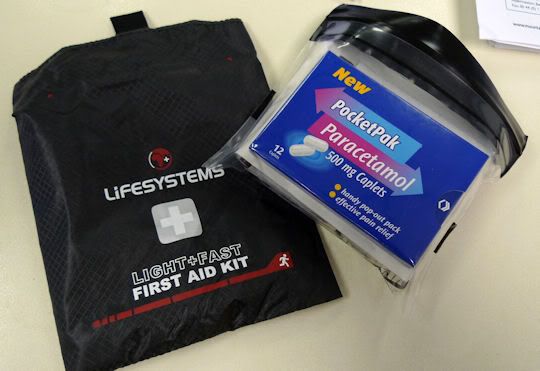 I've been very impressed using the new POD compression and stuff sacks the past few months, but just when you think you're happy a new model appears on the forecourt to try and give you buyers remorse.
The compression and stuff sacks (from small to packliner size) are really light, they're made from an almost see-through cordura and have taped seams and rolled closures. These really are a step up from anything else that's readily available.
There's a lot of other natty wee bits and pieces like tiny packing yet huge pack-towels and other storage options.
Craft
Craft make proper athletic wear for proper athletic people. Craig is that man, so he can wear their spray-on gear, look good and get the proper performance from it, whereas I can only dream of putting that orange t-short below through its paces.
Still, I've use it in the past and it's very good, has a great cut and keeps you dry, warm or cool depending on what grade you wear. Some of the kit is running or bike specific, but the more regular baselayers are worth a look for regular mountain sports folk who want good and different.
The above shot is a personal tribute to this stupid. 
I'll have a smattering of kit from above coming in for test, so I'll have more. There was kit from Gerber the impressed (I've carried their tiny stl.2 knife on every trip for the past year), including a budgie green multitool that's was way lighter than the current one I use at work. I forgot to take photies, but I'll see if I can get get a hold of a tester.