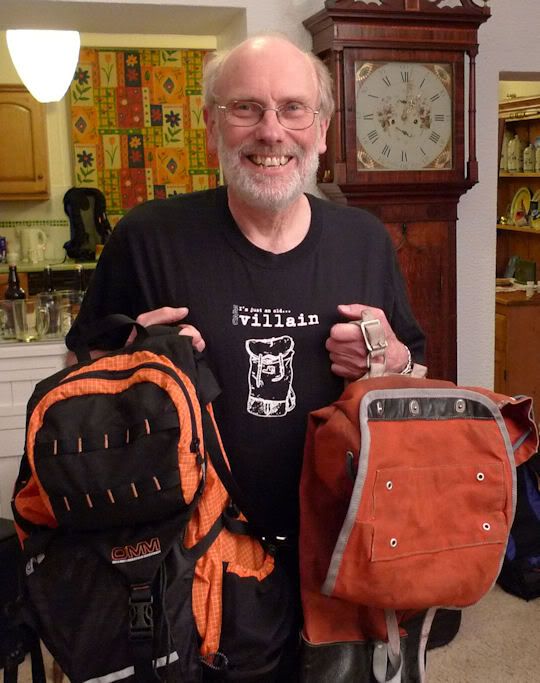 The last stop on my recent Lakes trip was to see some of the OMM guys. We were comparing notes on test kit, looking at the samples for the winter gear and generally having a bit of banter over cuppas and a pile of rucksacks.
Above is Mike Parsons with an orange Jirishaca MSC, my old Karrimor Whillans Alpinist and a Villain t-shirt. Everything in there is super rare, the Jirishanca MSC went into production in black dyneema, the Whillans is over 40 years old, there's only three Villain t-shirts (yes, I have one…), and Mike's a one-off for sure!
It's the first time I've got the Whillans down to Mike to have a proper look at, and he reckons it's a '65 or '66. The lid binding was the first ever use of nylon binding on a pack, so that ties it down to that date. He went over the pack with much enjoyment and finaly after poking at the lid for a while said "Yeah, it looks like I sewed that zip in…".
The winter stuff I'll cover later once the samples with the final spec are in, but there's a lot to look forward to. I've had two multisport packs, the OMM-i-drate and the Ultra 15, on test for a good while, and they've impressed all who've had a shot, so I'll write them up sooner.
The overwhelming thought that I brought back from the Lakes is that the future for gear is looking fine. The brands are bursting their arses to bring good kit out.
I often say it's not about the gear, it's about being out there, and the right functional and unobtrusive gear fits that maxim.
The invisible kit that I'm always searching for looks like it'll be getting easier to find, and that means even less hassle all round.
Alright!