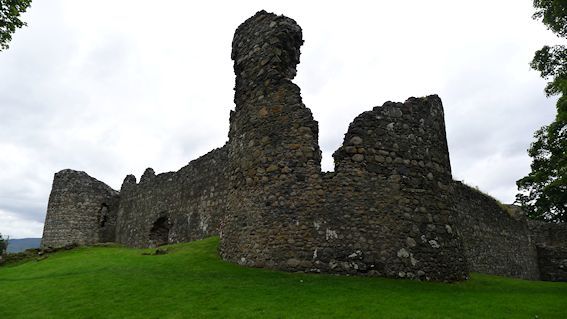 Come taste ma blade ya manky bear for gobblin' up ma leg!
I'll hunt ye then I'll skin ye, hang your noggin on a peg!
Billy Connolly sang the words from the Brave soundtrack with gusto as we topped the hill above Rannoch and I saw Glen Coe for the first time in too long.
It had started out as a galavant for me and the three girls, Joycee, Holly and Granny, that's my maw, but soon turned into a quest to find DunBroch Castle as soon as we put the Brave sountrack on.
The music fitted the scene, it might be Hollywood, but it's traditional at its core and we must have the had the whole album all the way through at least four times during the day, Holly would hear of nothing else.
It was joy on the A82. Really, the pace was okay and with the cloud high and breaking it was glorious all around. Every view of a peak or glen was tugging at me and I grinned my way north. Every car park was full, the hills must have been jumping which is brilliant.
From my door to FT Bill there's hardly a slope or peak I haven't climbed at one time or another, some many times and some not for many years. I had this in mind when I was putting together my Trail Routes for the next year, I'll be chasing the memory of the speedier footsteps of a skinny man in his 20's with a waist length pleat soon enough.
More important than introspection was lunch. The Glen Coe cafe was busy, but there was a table free outside and the four of us sat in the sun. I love it here and so do the girls.
Holly was soon rocketing around the garden, fueled by strawberry jam so a quick visit to the wee shop distracted her, it got me my birthday present from maw (it's tweed and purple and I won't get it until December dammit) and got us moving again after scone lethargy.
Back to the motor we went with Holly's plans to find DunBroch Castle, the home of Brave. I'd thought about Dunstaffnage, but Ft Bill was on the agenda, so Inverlochy Castle was the wildcard stand-in for the movie star. Except I had no idea what it looked like having spent 26 years driving by it. Shame on me.
I got confused as to where I was going and was told that the ruins and interpretation boards at the end of the FT Bill bypass were never going to do so we carried on through the town to look for the brown and cream sign that we all knew so well but couldn't place exactly. After missing it and turning back around we took the short road down to the castle, and what a surprise we got.
I was expecting a few stones in a field, even though I'd seen Horatio McCulloch's paintings of high stone walls and towers. Inverlochy Castle was just what Holly was expecting, a mighty mysterious place with rooms, stairs and secrets inside and out. She ran around looking for Merida, Elinor (which by a stroke of coincedence was the name of the original builder's misses) and the triplets, and a few times she swore she saw Mor'du lurking outside through the broken windows.
It really is an impressive structure, massive, well constructed and very complete for it's 800 years. We inspected every stone looking for will'o'the wisps and it's one of the finest castles I've seen. It's close to the river which adds to the atmosphere and the tall trees soften the lines of broken stone so from certain angles it looks complete. It's so close to Ft Bill, but so quiet, a wonderful and forgotten little corner.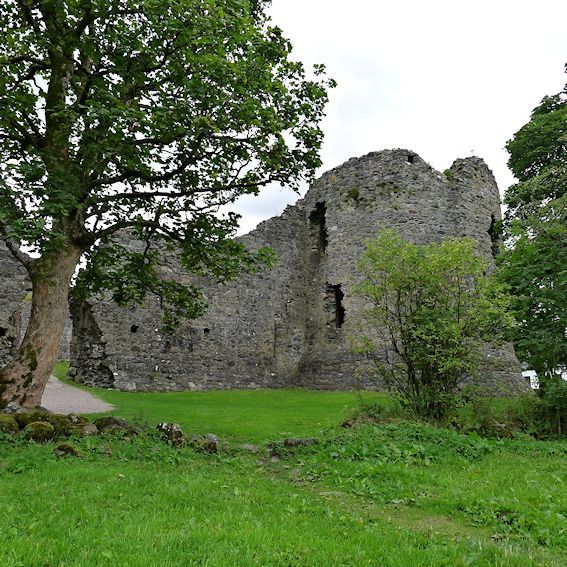 We could have played all day, the sound of vintage diesel engines firing up from the nearby railway yard could have kept me there as well, but more cuppas were needed and even the discovery of a rope swing didn't sway our quest for cake.
The Nevisport cafe isn't what is was years ago but it was still nice enough with cuppas and cake at the windae seat. The High Street is worryingly littered with empty shops although the street was busy enough with locals and visitors. We went in to one shop that Holly fancied to be greeted by a surly "I'm closing in five minutes" from the wummin leaning on the counter. This was at ten to four in the afternoon.
Welcome to Scotland: Ye'll have had your fun before you arrived.
Holly threw her a dirty look, turned on her heel and walked back out the door. I smiled at the assistant and added, "Aye, that's my girl" as I followed Holly out the door.
We fared better at the old fashioned sweetie shop where wee paper bags were filled with quarters of this and that, including two varieties of Irn Bru flavoured enamel strippers. Lovely.
Back at the motor we had time for more stuff, it was still light and we had energy. We also had three little toy bears courtesy of Granny, the triplets from Brave in plush Disney merchandising from the tourist information shop. I wasn't wrong about this being a theme day.
We pulled into the Inchree falls car park and exited our various doors, milled around, waved our arms and got back in. The midges were mental, we didn't get than in Brave.
We had sweeties and ginger so even the Real Food Cafe didn't slow our descent, which was slow enough already. I've been passed by fully loaded 18-wheelers on the motorway while I've been doing over 70 myself and yet they still can't put together a camper van that drives at over 25mph. What the hell man?
I think we all learned something today. Folk know that's a South Park reference when I say it don't they? I should do a glossary of my references and my interpretations of words which may not match reality so that I don't look like a patronising flowery prosed fop. I didn't want to put fop there really, but it kinda fits. I'll put it in the glossary.
One thing is embrace when your wean has a fixation for something you can enjoy too, this Brave thing she's on is brilliant fun. It's refreshed her interest in all things Scottish, we've long had Highland folk tales at bed time, and the mountains and castles are where she wants to be right now. Wait until she sees some brochs on the September weekend. Oh aye, we now have to work around school holidays. Ach. Still, I'll enjoy it all while I can.
Also, Inverlochy castle is the best thing in FT Bill followed by the Nevis Bakery and the old fashioned sweetie shop. Don't speed by, take the time to visit it if you haven't seen it. I'll be back again.