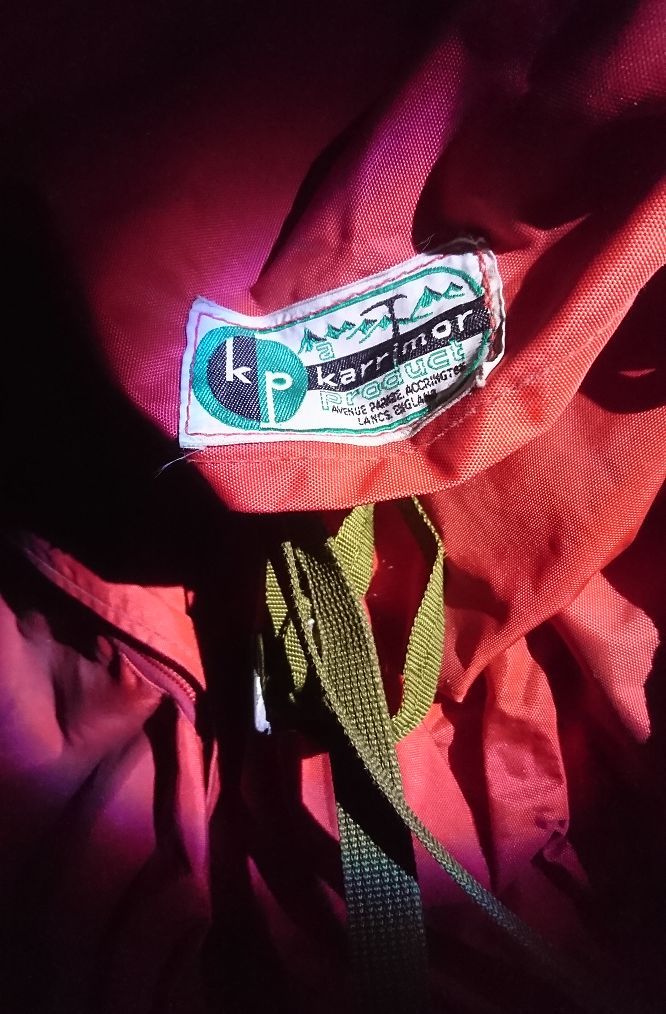 There are a few random threads that knotted together to bring this post around.
One thread is vintage or just old gear, I've been using it and talking about it for ages and it's something that seems to be seeping into the general consciousness which is a very good thing. Maybe folk will look back, see the good bits and then cast a more critical and skeptical eye over new kit, some of which is vintage reissues. Ha.
Another thread is my life as a heritage heating engineer where I crawl about old buildings making things works that have no right to still be functional or creating new things that look like old things. At my core I am part Victorian.
This engineering eye is what I see outdoor gear with, I see processes and construction, inspiration and ingenuity and I see skill and thought in even the most basic bit of kit. It stirs the geek in me.
So I'm in a church hall attic tracing out long forgotten braided electric cable expecting to see sparks in the dark and a large cracked Bakelite shell at the end of it. I shone a torch through piles of dusty gear and saw my goal, but I'd have to dig it out.
I was digging through time, sooty old aluminium pots, heavy canvas and rigid pole tents, a wooden and canvas stretcher, taped up boxes, disintegrating poly bags of miscellaneous crap and then at the bottom a flash of red.
I knew it was outdoor gear, most of the other stuff I was shifting was in that vein in a 60's Outward Bound sort of way but this fabric was bright, it looked good, it looked better quality that everything else around it. I immediately had suspicions, I dragged it into the clear and shone my torch on the label, it read: A Karrimor Product, Avenue Parade, Accrington, Lancs, England.
I whooped out loud and sent the photie above straight from my phone to my facebook page where with some further shots, some discussion followed.
It's a Tote-Em external frame pack, 70's vintage.
I found my electrical fault/horror. No spare parts to be had, the manufacturer of the oddball item went out of business in '75 and some things I just can't make myself and stay legal. However, I have a good plan and I'm on it.
When reporting all this to the customer I mentioned the pack, is there any chance... ? I ventured. Inquiries would be made they said.
After the weekend we talked about the job and my plan for getting things running and the word came through just as we were finishing up "Oh, just take that old haversack".
It was in the truck in less than an hour.
I was impressed by the lightness for the apparently large capacity, I was impressed by the condition for its age and the design intrigued me but it was manky.
The environment it was in was dry but dirty and dusty and there had been an element of asbestos in the storage area in the past and although everything is certified as clear, 35 years of dealing with the substance and the consequences of exposure to it to many folks around me has taught me caution.
I stripped the pack and cleaned it, not a gentle wipe down either, it's head went right under the bath water with a nail brush in my hand. Hey, it's UK made Karrimor gear with a lifetime guarantee isn't it? I knew it would be fine.
I inspected it all closely and it had come up well. No major damage at all, just regular wear from long forgotten adventures. The fabric is fresh, a few small holes which I probably won't touch unless they fray in use. The webbing and buckles all look good and now run a lot smoother.
And, the whole thing smells vaguely of NikWax Tech Wash.
I let it dry for a couple of days then got down to the task of reassembling and adjusting it to fit my back, because it's not a museum piece or for home decor, it's going out to play.
I did some research, there's stuff out there but not too much and Mike Parsons, Karrimor legend and designer of the pack had some insights from it's creation.
So with a single phillips screwdriver and a basic knowledge of knots, it's time to bring this Tote-Em back to life.
The frame is labelled a K2 and there were different configurations and lengths, clicking on the Tote-Em page on the excellent Scottish Mountain Heritage Collection site gives you a couple of catalogue pages where you can see the options. The one I have here seems to be a standard Tote-Em, I've got the same configuration as the one labeled 5301 on the old page.
The frame is made from 7/8″ aluminium tube. What's interesting here is that metal wasn't exactly Karrimor's medium but it's easy to see Mike Parsons getting some tools together, learning the methods and wrestling with tube in a workshop until he got what he wanted.
Once the design was finalised in-house tooling was commissioned for punching the holes and local engineering firms made the frames.
There's no fat in the design, it's all simple, practical and consequently light.
I make stuff like this now, and 45 years on if I was making one of these it wouldn't look very different doing it from scratch.
The holes for the horizontal bars are stamped with the outer holes countersunk so that the screws sit flush. The attachments are done with pop rivets and shaped bar.
Aluminium can be horrible stuff to work with, it work hardens which can lead to tearing or crushing.
Bending it with either poor material or poor technique leads to a full scrap bin, you have to get your bend right first time and the shaping here is rather nicely done.
The shelf corners are the bottom end are lovely.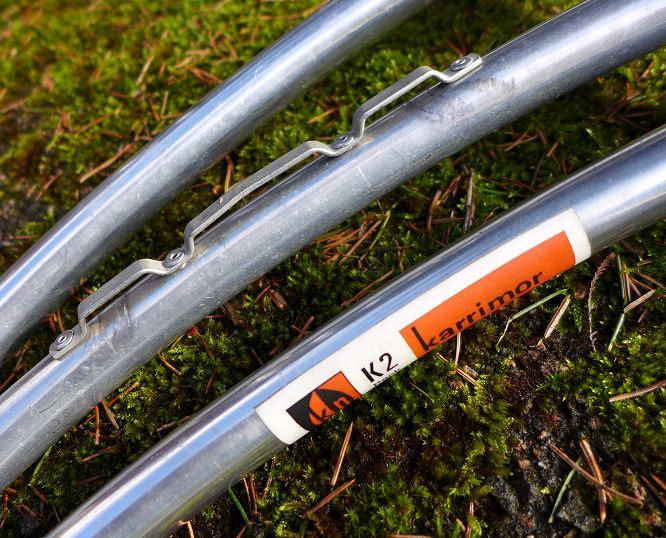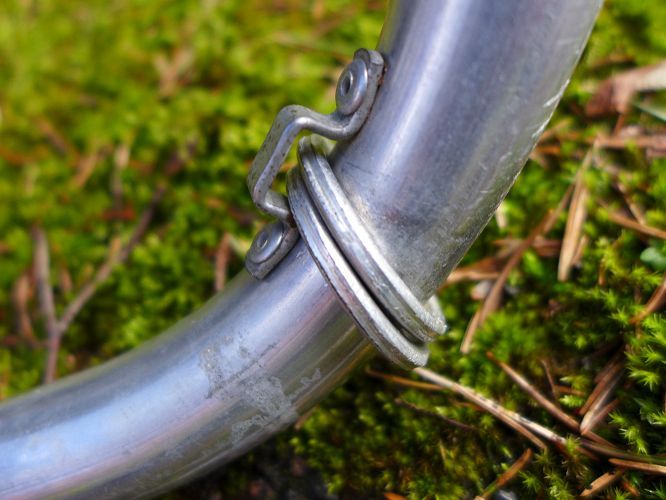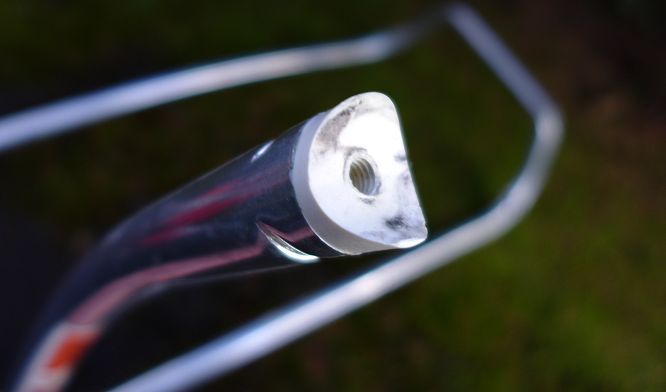 The centre bars are fixed with long steel screws which tighten into threaded plastic inserts. It's a good design, secure with a bit of flex but it relies on the user not being handless. The pack is designed to be dismantled and adjusted by the user and the cynic in me can see chatrooms and forums in 2019 full of folk cross threading, over-tightening and sticking screwdrivers in their hands.
Ach, but maybe not, backpackers and outdoors folks tend to be more hands-on than most.
I just get that feeling of disconnection that modern life is bringing. I mean, modern big brand packs look they were hatched from an egg. The Tote-Em looks and feels like it was made by folk in Lancashire, it's the organic tattie to a box of McDonalds fries.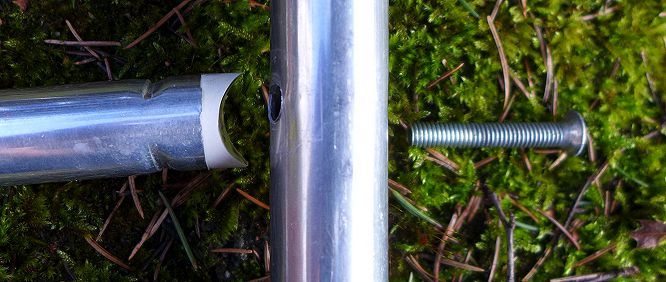 The shoulder straps are basic and you'll see the same design across many Karrimor packs of the same era. There's thickish padding which hasn't deformed or crushed in use with a light nylon shell.
The webbing is pretty stiff but is now running better through the buckles after the deep clean. The metal buckles are all perfectly functional and there's a nice wee touch of an eyelet at the end of the adjuster so that it won't slip through the buckle.
The back system is again simple and light but adjustable. There are three sections of 4″ wide webbing which can be placed anywhere on the back as they slide up and down the frame sides.
Moving the bottom one with the waist belt attached around really changes the back length, when I took it apart it was set for someone a lot shorter than me but the adjustment was all quite obvious. It might look like a bag of knitting below, but it's all simple to do.
You can flip the waist belt left to right or upside down to fine tune, it makes little differences to the fit. The big metal buckle is fine, but there's just enough webbing in that belt for my current waist line. Must have all been super skinny in the 70's.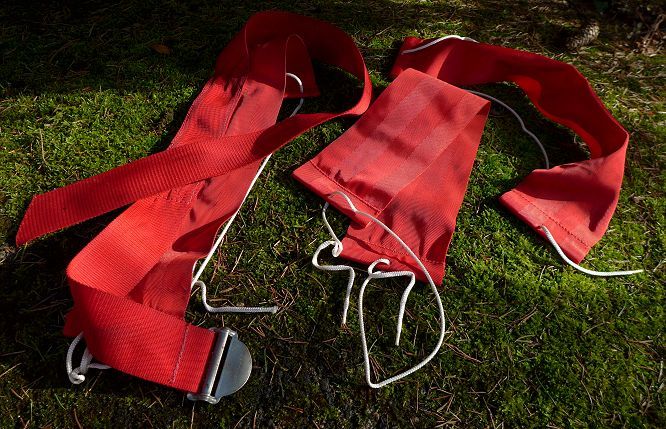 The webbing has drilled aluminium inserts at the ends, three holes drilled in each for manufacturing simplicity with cords for tightening the webbing onto the frame and adding tension to this simple back system.
The waist belt has double cords for extra security and stability, although it's rudimentary, it seems to be intended that it will take some of the load.
The body of the pack is a little amorphous without the frame and it's huge too, I think it's 65 litres, but it's nicely split into compartments.
The fabric is a bright red nylon and it must have been such a change from all the dull canvas around at the time when it hit the shops. The fabric is somewhere between stiff and supple and has aged very well.
There's some small holes here and there but they never crept and no attempts were made at repair, so the owner must have been happy enough and who am I to disagree, there will be no modern repairs for now.
The lid is a simple flap and the elastic edging has a little bit of stretch left in it. The old logo makes me smile and in general the branding is very strong and subtle all over the pack. The buckles, even the cord lock all have KP or Karrimor on them. This is ahead of its time, it gives the pack a strong overall identity but I do wonder if it was partly to stop the factories making the parts selling the bespoke component designs to other pack manufacturers?
The tough webbing is in excellent condition. Good lengths on the flap webbing so you can open it fully without taking it right out through the buckles, we're pre plastic clips here remember.
The side pockets open pretty fully too and all the webbing on the body is running smoother since its bath.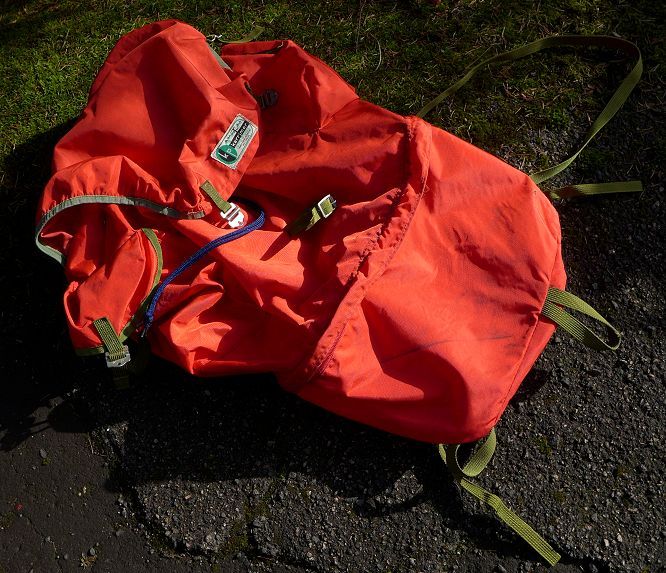 The body is split internally, the bottom 1/3-ish being a separate zipped compartment. The zip is good, runs smooth and has double zip pulls.
Although the internal divider is fixed there are corner holes for any water ingress to pass through from the top which was good thinking. Could probably get modern tent poles down there too, but I don't think I'll need to, there's plenty space.
The side pockets are huge and high up on the sides. There's a single ice axe loop and buckle, again in great nick and fully functional. I have a wooden axe if the snow comes back for me taking this out.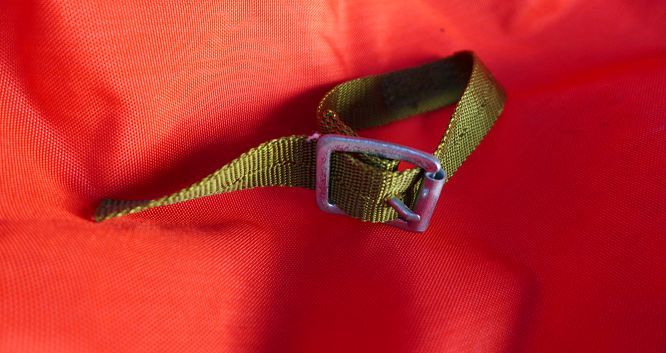 The closure is a simple cord through eyelets format with a big chunky cord lock. It work just fine and the big flap covers it all completely.
The back shows where the bars sit, the aluminium has left a particularly nice line where the harness bar sits. What trails were trodden when that mark was ground into the fabric? I bet they went by train or bus, I bet they had can openers and bottles of meths, tartan shirts and the widest grins.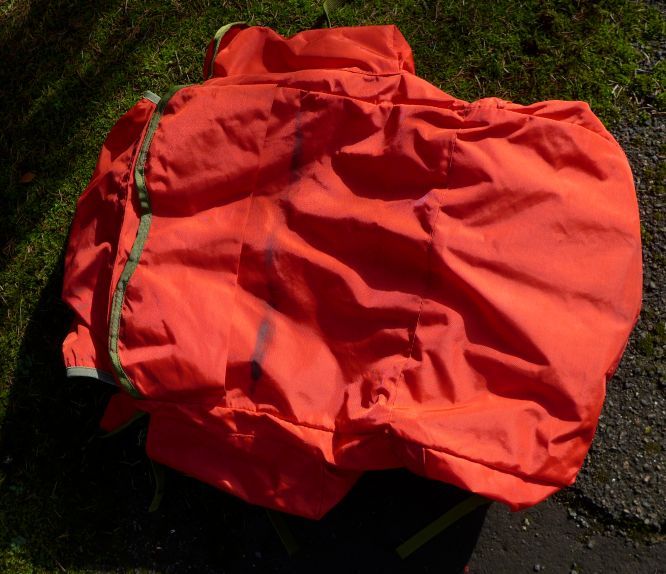 The pocket seen above and below is where the load sits, the top bar locates here through the elastic loops (still stretchy, oof!) with the frame sides poking through little gaps in the corners.
All very snug, simple and effective.
The other pack to frame attachments are done with webbing and double rings, a brilliantly simple and effective system which you probably see most often these days on crampon bindings.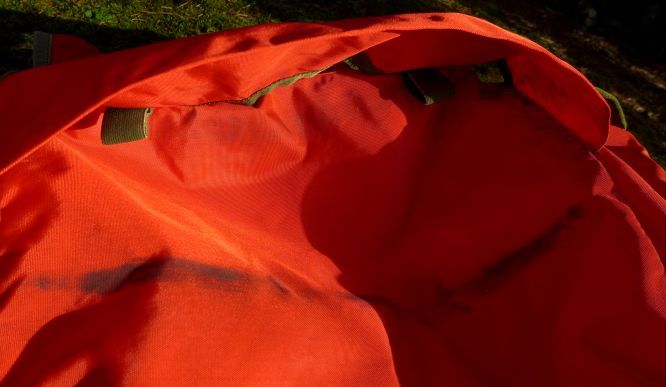 Time to put it back together. The back length is adjustable, the shoulder strap bar has two sets of holes to fix onto.
I used the lower one, with the waist belt set further down it feels like a regular back length, keeps the shelf away from my hips and as daft as this might sound, it sits on my back just like I see it on old photies I've found. Now there's the gold standard source to make adjustments by.
The bare frame as above is 670g. Now that might not look light but it feels light, maybe because I'm looking at metal and expecting more, but maybe because the weight is spread out?
Hey, perception is a hard thing to quantify.
I repositioned the webbing a few times, flipped the waist belt over and tried it both ways round and I'll probably make more changes as I go.
My fears are that the shelf digs into my hips on the trail or that the shoulder straps or the harness bar can be felt in ways I don't want and I can't adjust it away once I'm out there. I've played as much as I can but until it all settles in after a few miles with a proper load I won't know, but I'll be ready to adjust where I can.
Weight with webbing and harness attached 1050g.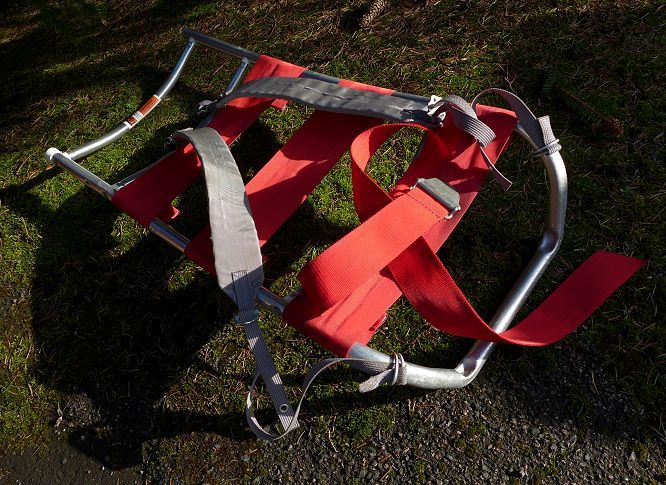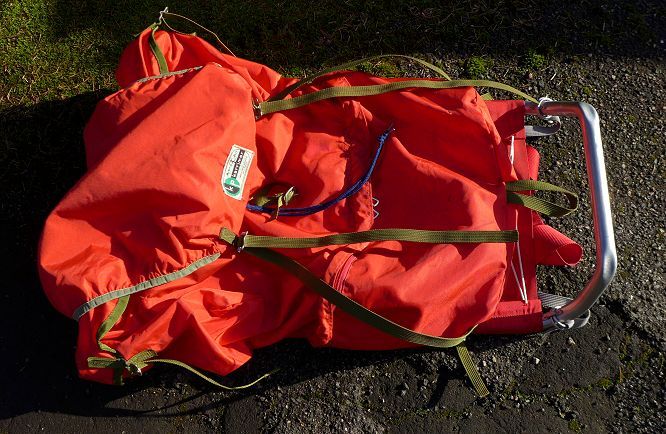 Clean, fresh, as well fitting as I can get it and ready to go.
Complete and trail ready it's at 1685g.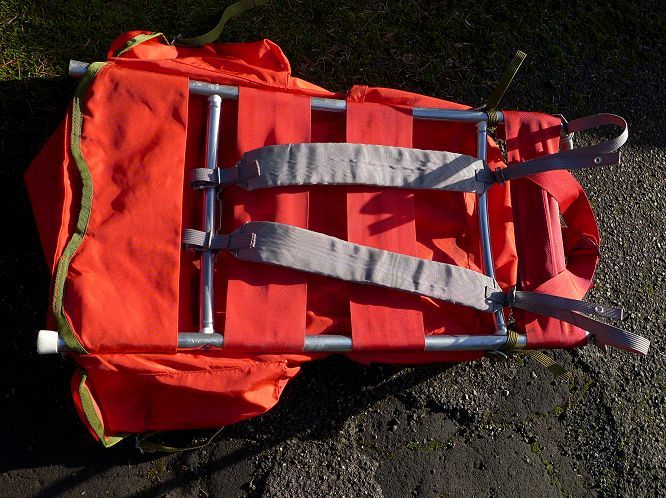 To the modern outdoor eye the Tote-Em might seem alien, but this is a product of innovation, discovery, ingenuity, trial and error, testing and all done here in the UK.
Everything has a first time and then we learn from that for the second time.
My interest in old gear is an appreciation of that as someone who makes things himself, some joyful nostalgia for the days when I moved from army surplus into real gear and a fear that too many good ideas are being left behind for the wrong reasons.
So, a bit iconic and a bit melancholy is that flap below.
When the weather says yes, the Tote-Em will be in the hills. More to come.