For something that probably doesn't get used in anger as much as our other outdoor clothing, a waterproof jacket is something that seems to attract the most attention and debate.
And money.
A shell jacket as as much a symbol of intent as it is a practical garment, it looks wrong hanging on a peg in your hall. Just like a vintage BSA Gold Star, it shouldn't be on it's centre stand, polished up and sitting in the garage, it should be screaming down the A82 getting paint chips.
I made do for a long time, years in army surplus and PU coated nylon cagoules worn over woolly jumpers were actually just fine. Gore Tex was plastic, expensive and to be treated with suspicion.
Until one day in the Arrochar Alps where the sweat between my Peter Storm cagoule and my jumper froze. It was time to change up my clothing a wee bit.
Sprayway was my first call, but the flappy removable hood on the Torridon TL was annoying and although the velcro strips I added helped, it still wasn't the best. That Gore Tex though, it really worked, especially worn over the assortment of fleeces I soon accumulated.
I kept trading up through the 90s, but my eyes were always drawn to the Karrimor Summit jackets in West Coast Outdoor in Fort William. It was a lot shorter than I was used to, but soft and it felt so light. It was expensive too, it was a proper mountaineers jacket. It had a nice wee multicoloured mountain logo on it. Ach, probably not for me.
Then one day in '98 I was in West Coast and they had a stack of Summits with £100 off. It was the fancy new colours they said, folk didn't like it. I tried one on anyway, it felt fine to me.
I pulled up the hood and that was all I needed to know, I was walking to the till.
The standard was set right there and then, my expectations now had a benchmark. Every hood I have ever pulled up since has to measure up that that moment in West Coast (it was up the stairs, on the left just before the shoes) where it was "just right".
There's been a lot of membrane's under my bridge since then and features have changed a lot, weights have come down and styles have changed.
The current retro outdoor trend that is seeing 1990's The North Face and Berghaus Gore Tex jackets sell for hundreds of pounds has allowed me to wear some of my favourite gear this winter without people pointing and laughing. I was even wearing one today now I think about. Where the hell did that rain come from and why is 20 year old 2-layer GTX ripstop so comfortable?
So, more than the other 20 year old gear I've dug out, I'm already very used to old Gore Tex again and you know what, I'm quite happy in it.
I have older Gore Tex, my Phoenix/Karrimor Diamond being a belter and still in good condition and the right size, but it's just too big and heavy for this time of year. So I'm going with either of the sets below. One made in UK from '98 and one Chinese from '99, and Gore's first proper step into lightweight.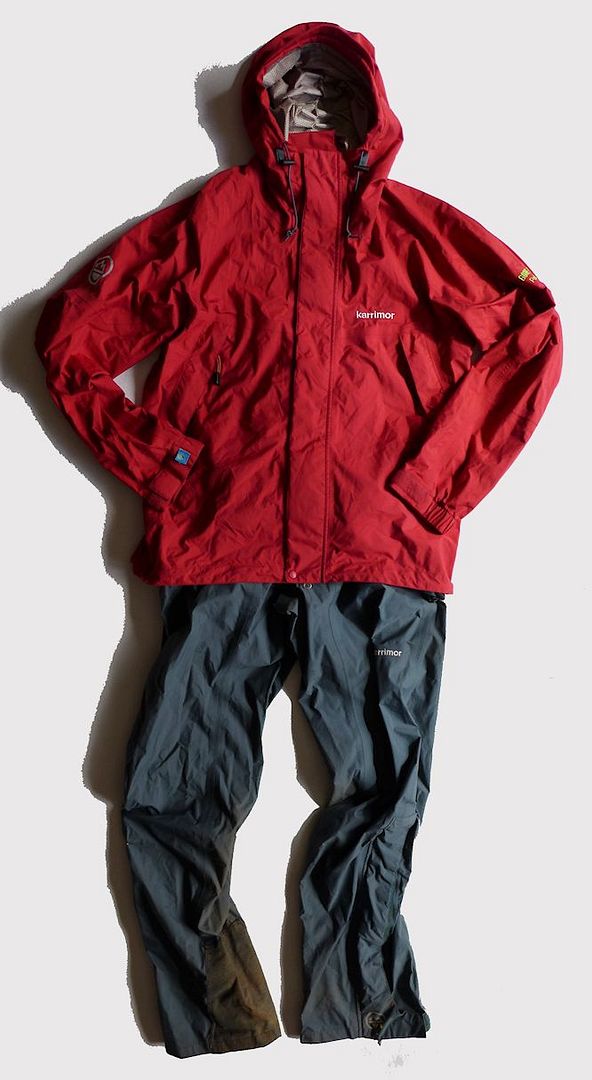 1999 Karrimor Phantom Jacket and Pants, pre-production samples.
Jacket £200, 414g Size Large
Pants £120, 294g Size Large, including bits of duct tape and the two kevlar ankle patches I sewed on after shredding them with crampons.
The Phantoms probably fit with my current wants and needs for waterproofs given the weight and features but it's not as simple as that.
The design is pretty clean looking, but it's hiding some interesting stuff.
A lightweight jacket with proper cuffs, wide, big velcro adjusters. Get your gloves under or over these.
The elastic is lasting too, still some bounce left in it and the cuffs will pull up to my elbows. The arm articulation is pretty decent, some elbow shaping and armpit gusseting which gives a good range of movement, scarmbling friendly but not climbing friendly. The jacket is too short anyway, it barely sticks though the bottom of a pack waist belt so it would pop out of a harness all the time unless I'd imagine.
The hood is terrible. It's a huge shapeless bag (space helmet compatible) with a single ineffectual volume reducing strip of bungee cord running vertically at the back. The peak is okay, not wired but keeps its shape. But just as you're feeling better about it all the bungee running round your face pulls the hood in and it feels like your falling down a manhole in the street as the circle of light gets smaller in front of your eyes. It doesn't move with my head either.
However, it rolls up with a velcro tab so you don't have to deal with it.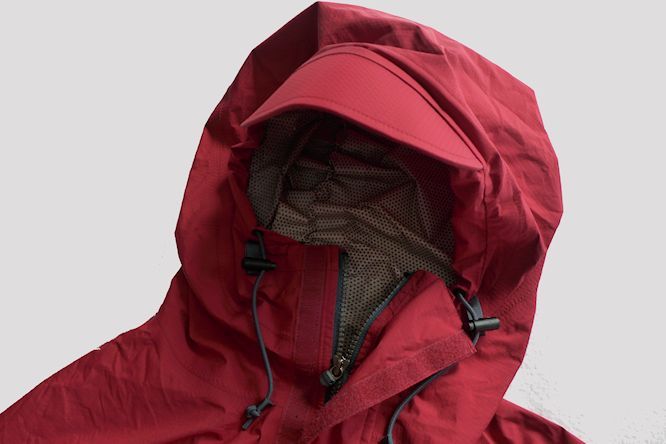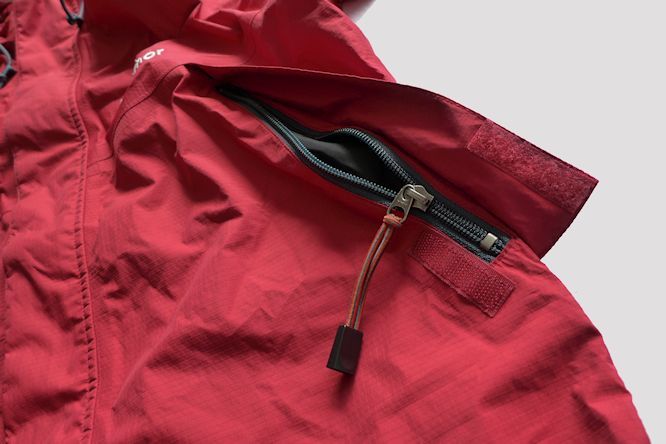 The chest pockets are excellent. Nicely angled for stashing gear or warming hands and the inners are mesh which vent very well.
The pocket zips are regular zips which run so smoothly it makes using a current water resistant zip again an instant annoyance. The storm flaps cover the pockets perfectly well with a single velcro tab at the bottom corner to seal them up tight.
The big news here was the Gore Tex Paclite fabric. Lighter, more flexible, more breathable they said. It's two layer, the PTFE membrane is visible, protected by the little rubbery dots printed on.
There was a great wailing and moaning when this version launched, Paclite I we'll call it – version II was garbage with an inner coating and the dots, III was better with just an inner coating that does help manage condensation a wee bit.
The complaints came from the inner wetting out, which it does especially if you wear a lot under it or are working hard, over just a base layer it works fine for me at times, but it was always difficult to get a consistent performance.
The other worry was durability and actually that turned out to be okay for me, the membrane has discoloured in places, I'm assuming oils and dirt contaminating the lamination in some way, but it never delaminated or peeled, even on the pants which had some hard use over the years.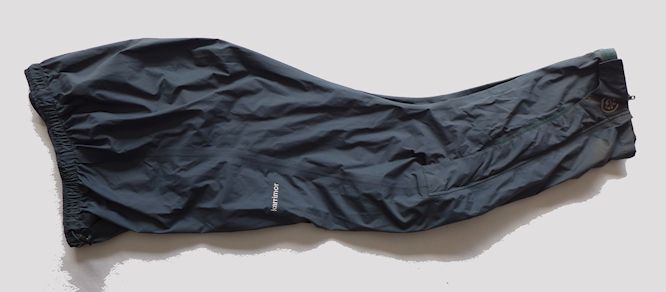 The matching pants are excellent in every way other than the weak ankles which had to be patched with the kevlar cut from the knees of some too-small Rohan techy pants.
The lower legs have zips and velcro flaps and the elasticated waist has a drawcord, that's about it. The real revelation is the cut, these are the best shell trousers I've ever had regarding fit and mobility.
Pulling them on is odd as my foot slides down they feel tight, then slack, the same happens on the other leg, then fastened and adjusted they're suddenly perfect. No stretch at all and I have unrestricted movement due to the clever articulation and gusseting. The clever backside and rear waist means they don't slip down, no cold kidneys, no readjustment on the move.
I will continue to patch these until there is none of the original fabric left at which point I will send then to someone clever and have them make me another.
I wish.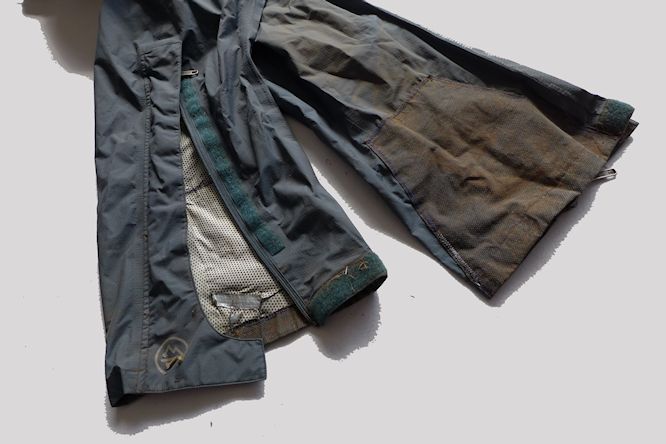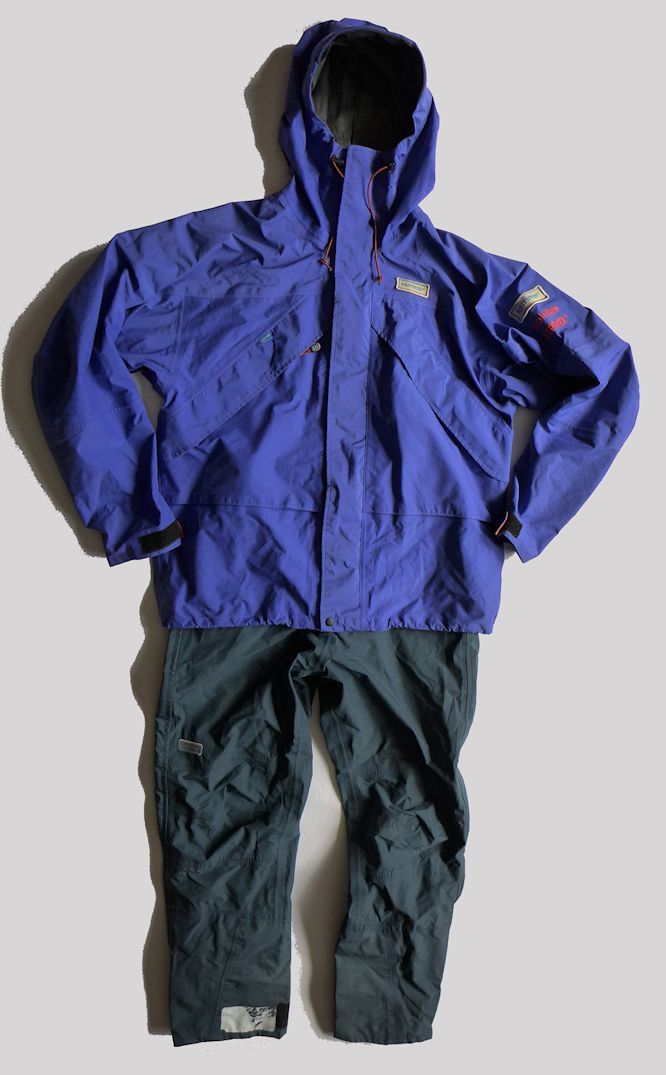 1998 Karrimor Summit Jacket and Pants
Jacket £250, 684g Size Large
Pants £200, 630g Size Large, including braces and patches
Clean and simple and maybe a bit boxy too, this is my favourite shell combo of all time.
The cut is relaxed on the jacket and it feels odd compared to the current closer fit we've all got used to. Breathable fabrics work better closer to the body but in the worst winter days, being able to coorie into a bigger cut jacket had a great psychological effect. I was winning, the weather was losing.
Articulation is okay, the looser cut helps this although there is some decent forming around the pits and elbows. It's too short though, it needed an extra couple of inches on the body which they gave it the next year. They changed the rest of the jacket too though, That did not go well at all.
The hood is the work of a pact with satan, it must be. It has the same single vertical volume reducer as the Phantom above, but here it pulls the peak up and the the hood into your head. The face drawcord seals you up and pulls the whole hood in. Slack or tight, it moves with my head and the huge peak kept out blizzards out convincingly for years.
A main zip that literally and figuratively zips up and down, oh I love zips that move so easily. You could also leave the zip half done and touch the velcro together for a little bit of extra venting while still keeping the snow out. Storm flaps, what a clever and useful thing.
The map pocket is huge and useful. I think in more recent years I started using chest pouches because I didn't have this pocket anymore. Kidding aside, it's not a vital feature, but the pocket bag is a light fabric so it doesn't affect breathability too much, so why not.
The chest pockets are excellent. Yes they're double fabric, but I could and can live with that. The pockets have slick and fast to use regular zips, wide entries placed at 45 degrees and a big capacity. I'm pretty sure Rohan had a very similar pocket design back in the 70's, innovative in a time when pockets were flapped rectangles.
The pockets are external and are gusseted/bellowed to make them 3D, that meas you can pack them and they don't overly affect the way the jacket sits. Modern closer cut jackets have waterproof zips and internal pocket bags, packing the pockets affects the way the jacket sits, sometimes raising the hem up. I've been A/B-ing this to test the theory, I'm not making it up.
The untaped external seams let water bleed out too, you can stash wet gear in these pockets. Aye.
The fabric is great, the lightweight ripstop was way better than the Taslan I was so used to. Softer, more packable as I started to carry ever smaller rucksacks and I think it breathed better, but maybe not. I could just have been justifying my purchase to myself.
All in all: yes please.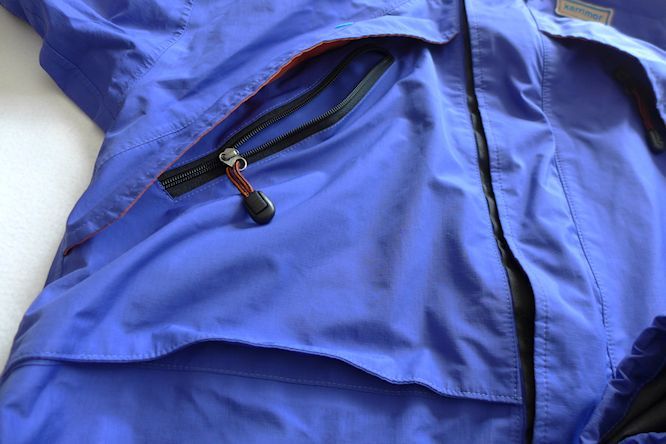 The matching pants tell us that softshell legs were still in the future. These big fellas were to be worn over fleece or powerstretch and at that they excelled.
Braces for stability and being able to have a looser waist, full length zips for quick on/off and internal gaiters for fastening over the big boots that used to give me blisters every time I went out.
They're nearly the same weight as the jacket and they only went out on days I knew I'd be wearing them, I used to carry cheapos from Millets otherwise until I got the phantoms.
I loved them though, the same tangible level of protection that I got from the jacket made these feel like a fortress. On the worst days, these did make a difference and if I was going back to powerstretch leggings, these would be getting packed in winter once again.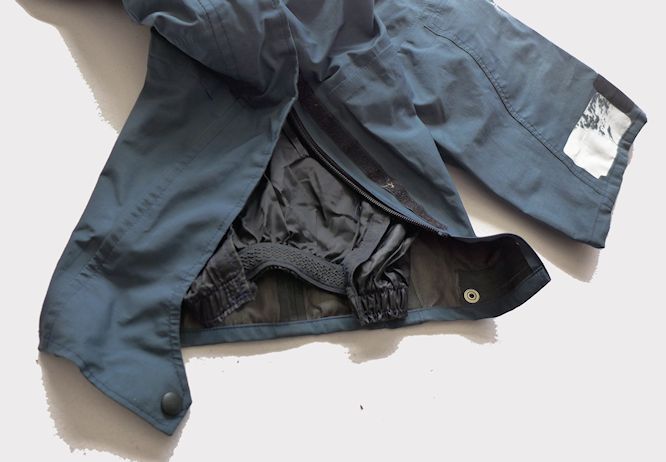 I know nothing is perfect, but I like more features on the Summit Jacket than I do on a current equivalent. It feels ergonomic despite its straight lines and boxiness, it feels utilitarian and accessible and it feels protective.
The only things that feel like they were put there to catch the eye of someone looking for a bit of style on their mountain are the strong colours and the branding.
Its definitely not a traditional Karrimor look, but I really like it and the performance of golden era Karrimor is in there.
Can it be that fabric performance has progressed and design is just going around in circles in a cul-de-sac? Did those two elements pass each other on the way to the present day and not stop to talk?
Well no, but still.
Dammit man, those old pockets.