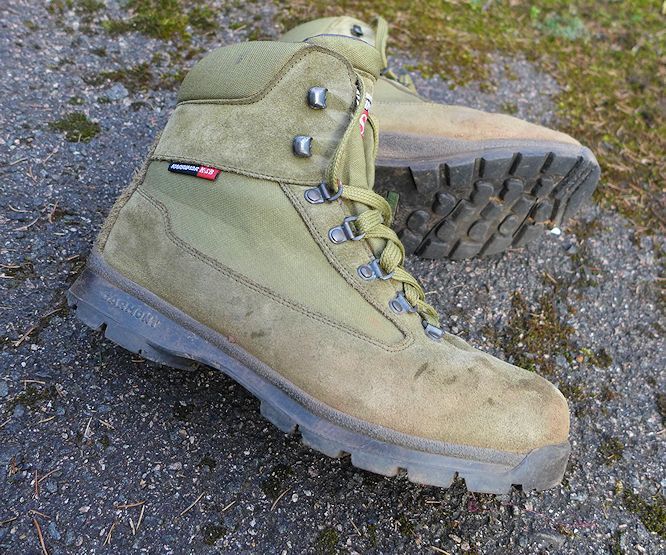 I found these the other day and took them into the Kilpatricks the other night (blog post below this one I think?) to see how I got on with them again. It went well enough, the overall fit is still good although the heel cup is a little roomier than I like these days, but I can dial that down a bit with socks and insoles.
The sole isn't the grippiest on the muddly conditions around the Lang Craigs just now but I'm used to slidey trail shoes so I quickly forgot I was wearing them and spent a fine few hours wandering, trouble free.
So, the KSB's are in my kitlist. I even found 3 of the original 4 insoles – two thin versions and one of the double thickness volume reducers, a nice touch from the original Karrimor. They've taken a kicking back in the day, but I'll try them out before I likely go for some current Sole insoles to help with the heelcup thing, I don't want a single blister thanks very much. There are some retro items I don't want to revisit.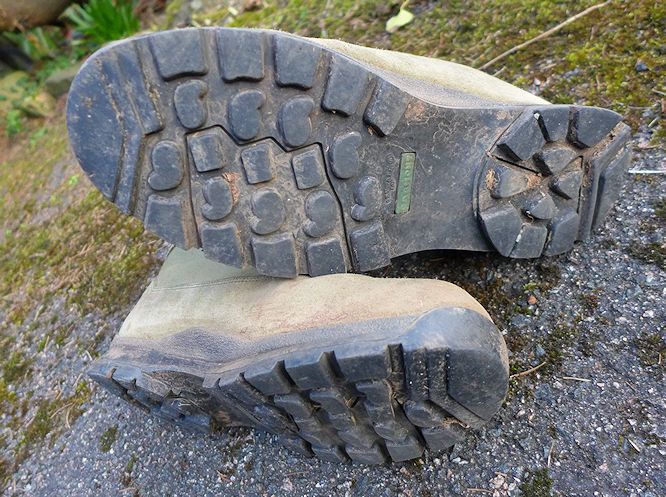 I think these are from '96 or '97. In '95 the logo on the tongue was different and by '97 only the Gore Tex lined version was available.
Branded by and manufactured by Garmont who over the years had some nice collaborations with Karrimor. Asymmetric 'ADD' lacing ? Yes please.
So, the exact words from Karrimor in their '97 workbook…
K-SB 3 Original
The boot that changed our thinking about lightweight boots has become the classic 3-season suede/Cordura boot.
The KSB-3 has been used and abused on some of the toughest trails worldwide and keeps getting better.
Recommended use: Back packing, fell walking, scrambling, even mountain biking.
Features: >'Original' frameflex insole >Skywalk dual density sole >Antibacterial footbed
Weight: 630g
Sizes: (UK, whole and half sizes): Men's 6.5-12
Colour: Sage (51-236/37)
Price: £90
I haven't weighed them, so can't confirm or refute the original figure. After the trip I'll do that and do some sort of comparison to current kit. Or something.
They feel okay though and they are light enough on my feet. The ankle cuff is really high, winter boot high and it's pretty stiff laterally although forward flex is good. It almost feels like they've got some breaking in still to do, so I'll wear them a wee bit before I carry overnight kit in them.
The cuff and tongue are gusetted right to the top, excellent for keeping crap out and would have been great in the GTX version if the liner went right up to the top.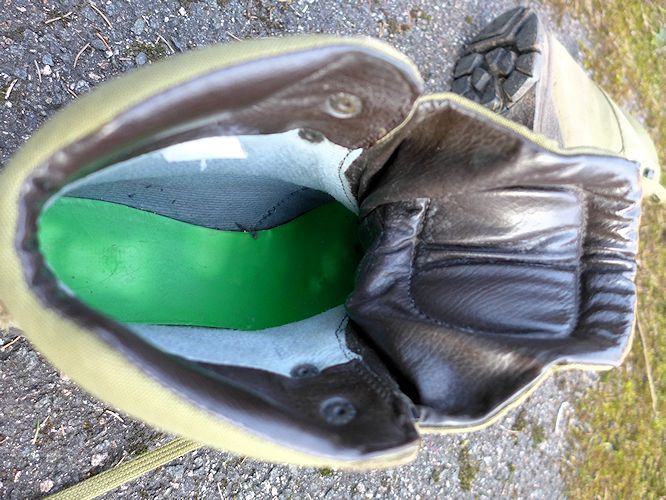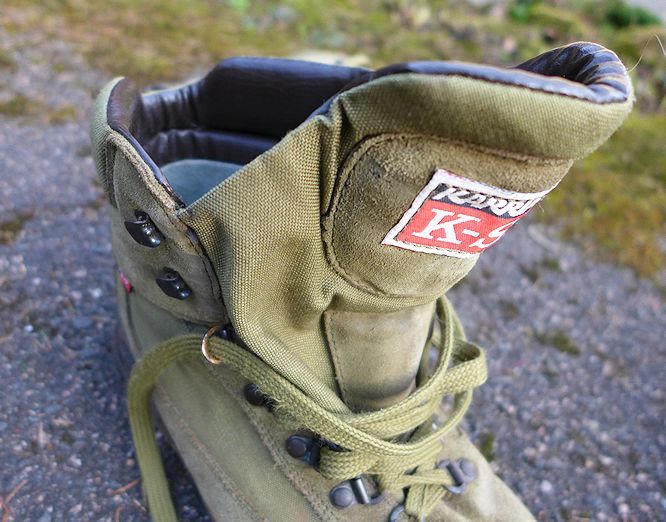 The inner is lined with some fuzzy stuff with a honeycomb matrix in it, kinda looks like Cambrelle but it's not named in the spec so maybe aye, maybe naw? Whatever, it does seem to wick sweat away but might there might be some insulative qualities there too, either from the lining, the upper construction or both as these are quite a warm pair of boots.
Neat stitching, tidy construction with clean lines and classic good looks. These KSB's are approachable and utilitarian, a boot for a purpose that isn't trying to make you look sexy or sell itself on a busy web page.
Look at a typical modern boot aimed at a similar market to this old timer and you see lots of different fabrics, lots of stitching, lots of glue, lots of plastic, a formula one car for your feet that will fray and unravel long before you have a chance to pack it away for a rainy day like these KSB's.
What the hell happened? 20 odd years later, how much weight saving in our gear have we traded for a shorter life and making more waste. I've trashed maybe twenty or thirty of pairs of Montrail's, Salomon's and Inov8's over the last ten year or so. Is there an equation or an equivalence over time here that will shame us and the manufacturers or are we actually doing better now and I'm an idiot?
I said years back that we need a simple lightweight trail mids in natural materials and I think that more than ever right now.
This 20 year thing started as a bit of fun, nostalgia, but now it's really making me think too.
I will learn more as I go. I will grin a lot, but I think I might occasionally rage too. Just wait until I get to waterproof jackets.