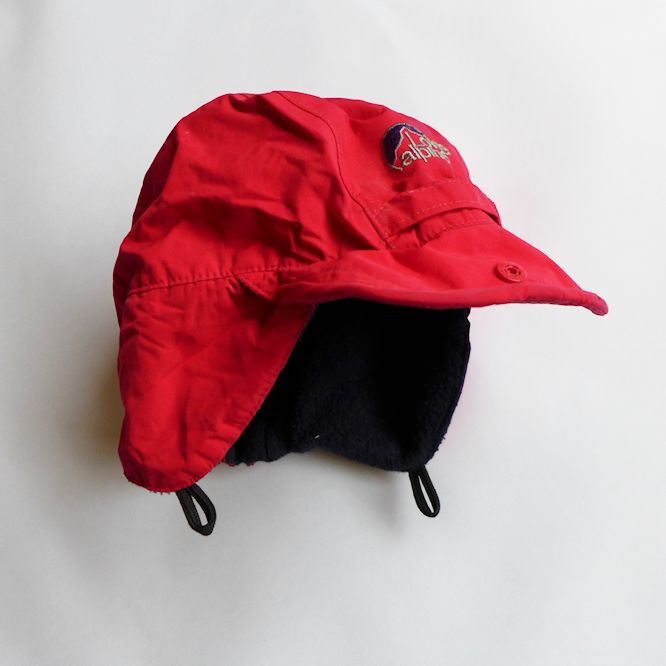 Lowe Alpine Mountain Cap
As unglamourous as it is practical as it is copied.
The Mountain Cap is warm, often too warm for me, waterproof, except that rain runs down the back of your neck and you have to take it off and pull your hood up.
Well, I suppose I'm being a bit harsh there. It was a great winter cap for cold and blowy days and it certainly cushioned my head from the weight of my Petzl Zoom on long night time descents and walks-out.
The designers spent some time thinking it out. There's a rear cinch, a wired peak that clips up and attachment for a chin strap which you don't need as I always found the shaping was so good it just stuck to my head in the wind anyway.
It's light enough and stuffs away quite readily, it feels soft to wear too, despite the waterproof Triple Point taped-seam shell outer.
I've had a few copies from other manufacturers, none of them as well engineered as this, none quite as complete. Half arsed bootlegs from bigger brands. Shame on them.
It's worn and a bit dogeared but it'll do just fine. A warm napper at camp for sure.
Not sure of the age, mid 90's again I think, the Lowe Alpine logo is purple and silver which makes it a bit older maybe. Pretty sure the orange version on the label below became standard at some point before 2000.
And also on that label? Made in Ireland.
Aye.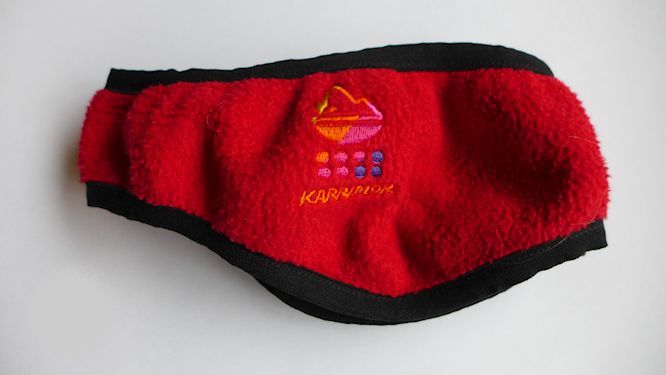 Karrimor Alpine Headband
I never did like wearing this. The ear warmer headband was a good idea before buffs were stuffed into every pocket and designs varied wildly from woolly skiers accessories to this Karrimor version which laid railway tracks into my forehead with that double lycra trim. The lycra bands would creep towards each other too , eventually making it look like I had a mini beginner swimmer's flotation ring round my head. The wind also goes straight through that well-bobbled (hmm, I must have worn it then…) Polartec 200.
But, it's the only one I can find, plus it's got the awesome old Karrimor Elite logo. It'll be fine.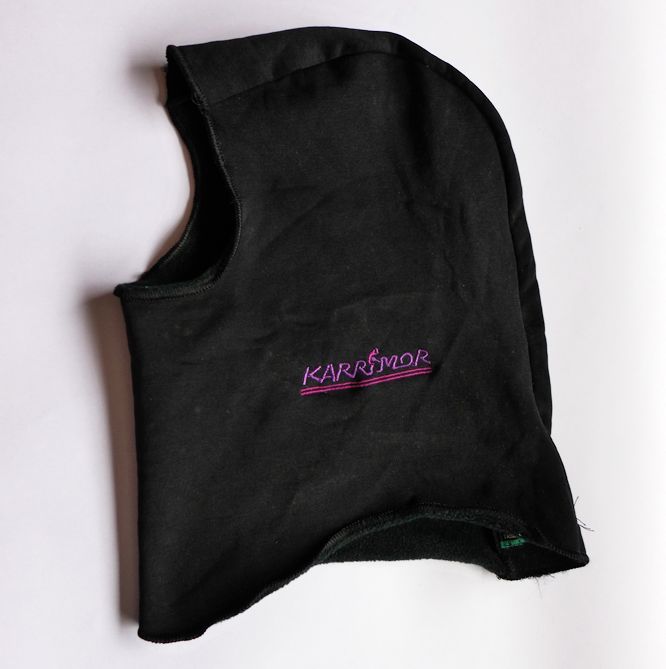 Karrimor Powerstretch Balaclava
I went from a wool balaclava with peak and a pompom to this. It's got a decent shape to it, I can have my chin out or have my nose covered and the top can sit at my eyebrows or be pulled pretty far back for a bit of cooling.
The fabric is an early Powerstretch variant, 'Series 200' is says on the label below. It also says 100% polyester but the old catalogue says there's a nylon face on the fabric which sounds right, so I'm going with that. The label might just be randomly sewn on at the factory because it says Polartec on it.
Not the stretchiest maybe, but the fabric feels nice enough and the serged seams around the face aperture and neck don't upset my skin or mood.
I think I reviewed a balaclava or two a few years ago and that would be the last time I wore one. Hooded midlayers and buffs kinda killed them for me.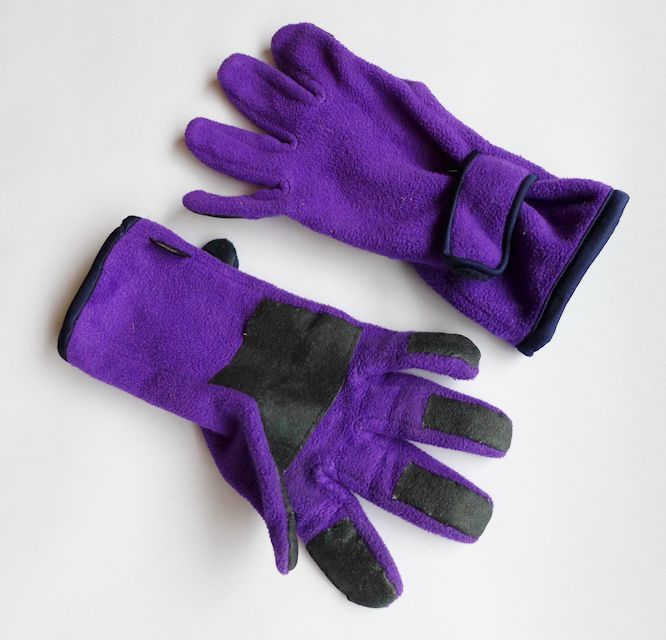 Karrimor Windbloc Grip Gloves
I remember buying these. I had been watching them for ages as they sat shining brightly from the accessory dookits in Summits on Moss Street in Paisley.
£30 quid though, for fleece gloves. But they just fit so well, it was always going to happen.
It was a good call, they went on every trip for many years. I could get thin liners underneath or wear them on their own, the long cuffs tucked up shell jacket sleeves, the little velcro cinches kept them snug and the grip patches, although not very sensitive or dexterous feeling, gripped axes, poles and clothing adjusters just fine.
The Polartec Windbloc fabric worked better here than it did on any jackets I had where sweat overpowered it pretty quick. With a smooth outer and a slightly piled inner it was warm, windproof and pretty waterproof too. I've got photies of me wearing these crusted in ice while smiling, so they must have worked just fine.
I'm sure that will continue.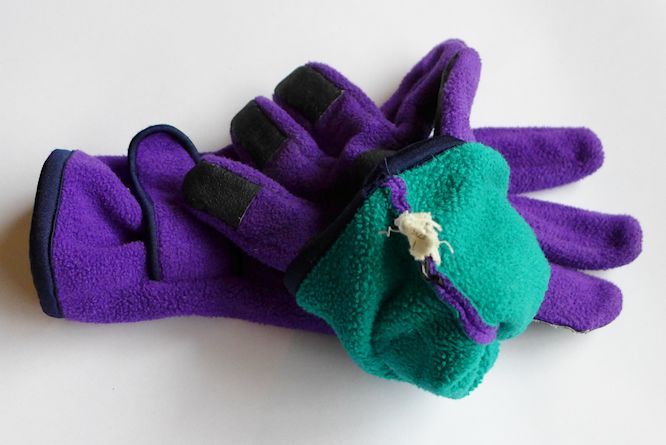 The tag was in the box with all my old catalogues and stuff. You used to get a plastic card with Karrimor Elite gear which you could fill in with your emergency details on the back.
£30 for fleece gloves though. That was about £7000 back then.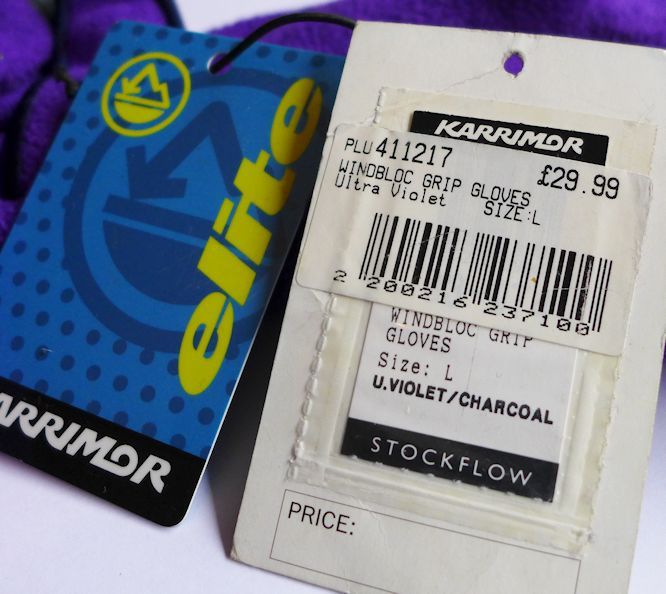 Mountain Range Murton Mitts
Gore Tex outer mitts with pile inners, these were the winter hand protectors of justice.
I wore these a lot, the palms gripped axes really well and they were nice and warm. The palm grip material is rubbery feeling with a bit of stretch to it, although it looks like the mitts are a sensory deprivation device, they really weren't, buckles and zip pulls were no source of frustration. That's old school zips by the way, something I will be returning to too soon.
Wrist cinches, long cuffs with adjusters and well shaped.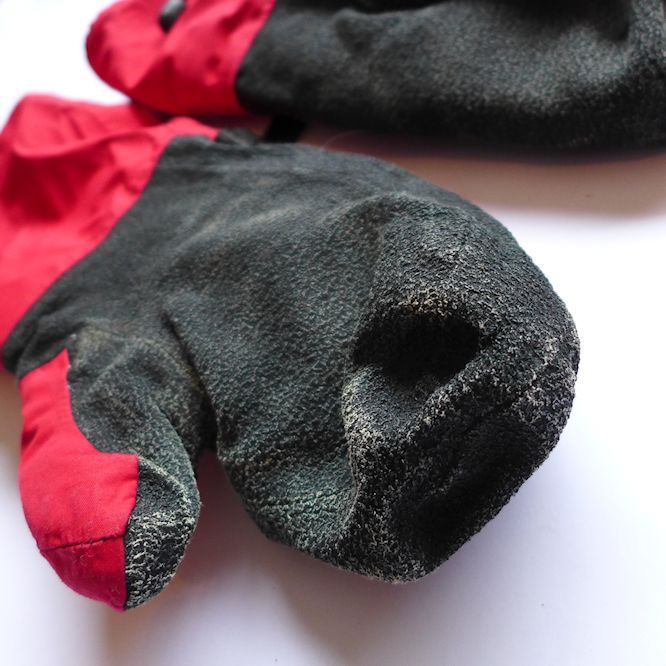 Mountain Range were never sexy, their gear was plain and practical. GoreTex Taslan everywhere.
Now that is a name that instantly takes me to a time and a place.
The pile inners seen below were great in the tent, nice and warm. I wonder why I gravitated to Buffalo Mitts from these, pack size probably? The Murtons are definitely better on the move.
Made in Cumbria it says on the label. Imagine that.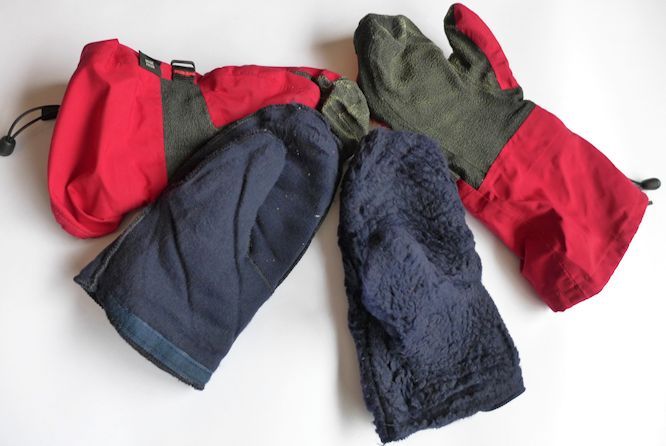 Terra Firma Explorer Socks (I think…)
It was once advised that walkers wear red socks for visibility, not to each other, but to search parties. There's a thought.
"Okay, the casualty is lying in heather at the bottom of the crag, he is wearing a tweed jacket and deerstalker with moleskin plus-fours. The good news is that he was indeed wearing red socks as advised, if we're lucky he'll have them pulled up to the knee which will gives us a better chance of finding him before spring…".
Anyway. I'm sure a mob called Terra Firma made these, the name is lodged at the back of my head. Tiso did them I think? Actually quite nice socks, the loops are still loopy, the construction is wool and something else. I've got another pair of similar vintage which are worn right down, the wool is gone at the heels but a suspected nylon web remains.
Really long. Cozy or sweaty, we shall see.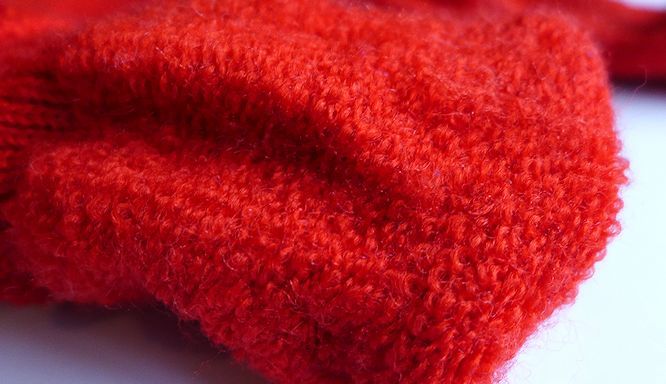 Meraklon Liner Gloves
I have been finding these polypropylene liners everywhere since I've been rummaging. Glad I kept them, they've doubled in price to around a fiver these days.
Still a handy* bit of kit, they keep the chill off more than the spit-through thin fabric suggests and they last as well.
These were balled up and stuffed into rucksack lid that hasn't been opened in nearly 20 years. A wee wash and they're as good as new.
Hmm. Might try that same trick on my truck.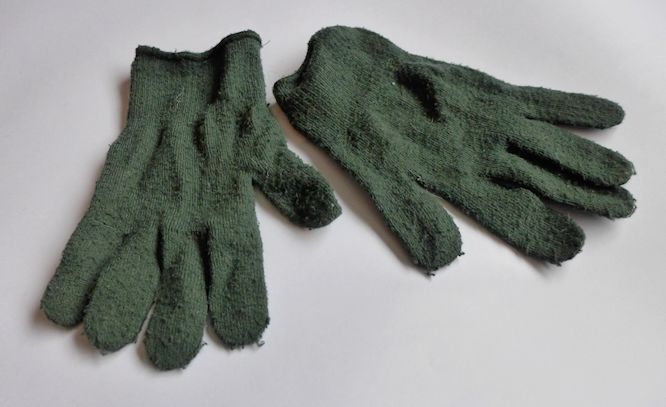 *Ha.