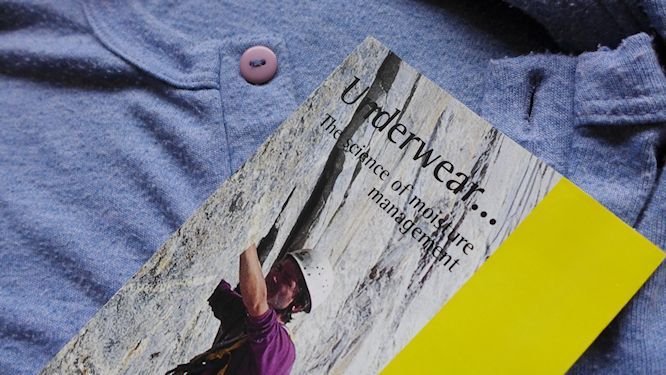 Underwear…
The Science of moisture management.
Finding decent vintage underwear was a mix of triumph and despair. My main goal was finding both intact and in an unlikely size large, some Jack Wolkskin Polartec pants variants. No joy.
Back in the day the Green Welly at Tyndrum had a wee outdoor shop stuck behind the garage where the basic cafe is now. In here was a rack of Jack Wolfskin baselayers of all designs, mostly in grey marl but also some wacky striped stuff. I got a few things from there over the years but it was my lower half I was looking to get covered right now.
I was hoping to find either the long legged boxers or the wind briefs or whatever they were called, basically Polartec 100 (as it was then) with a bit of Pertex sewn over the crotch. Hideous yes, but also practical. And potentially amusing.
Nowhere to be seen though, probably worn to death, shredded and binned many years ago. Ah well.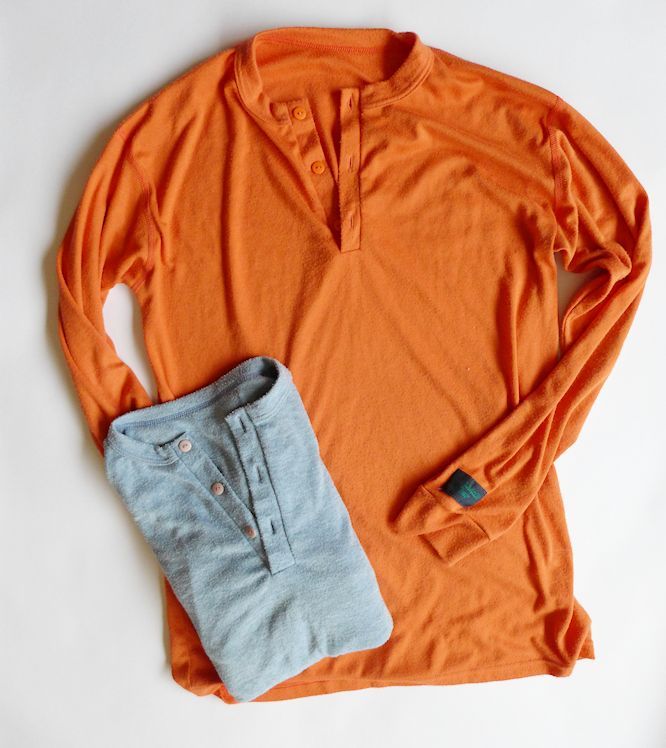 I was happier once again when I found my tops, which I knew I still had lurking somewhere, my North Cape Coolmax Long Sleeve Henleys.
Not sure how old these are. The blue one is the end of the 90's I think, the orange one is older. I absolutely love these, if I hadn't been lured away by the first wave of modern merino I would probably have worn these until they fell apart.
The fit is excellent, slim overall, a long body, long sleeves and excellent articulation from the simple construction and decent stretch in the fabric. The cuffs are nice, low bulk and long so they slip under gloves and jacket cuffs and reach right down to base of my thumbs.
The collar is excellent, I like crew necks. I rarely wear zip necks now, in winter I don't need to vent, in summer I wear a trekking shirt or a polo, which has buttons like this Henley and a sun deflecting collar. The three buttons aren't a hassle, they're grippable with light gloves and don't catch chest hair like zips can.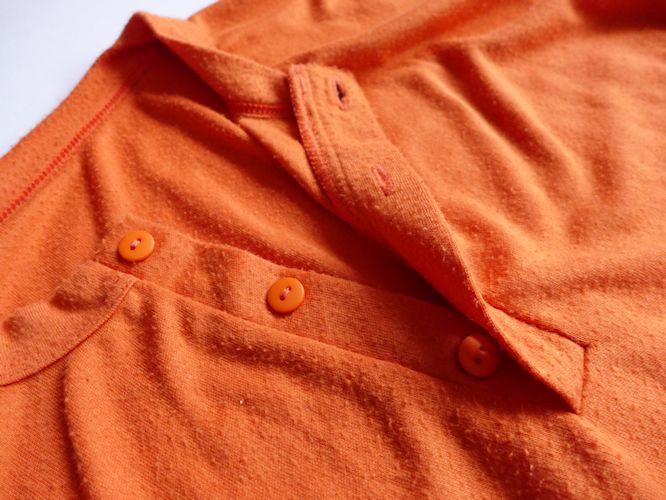 The construction (done in Springkerse Industrial Estate, Stirling) is neat with a mix of flat locked and serged seams, no stitching has ever popped and no seam has ever rubbed.
I've been wearing these the past couple of weeks and while the fabric does manage moisture a tiny bit slower than current fabrics and a couple of days wear might bring some odours tiny bit quicker than you might expect these days, I'm not seeing any disadvantage to wearing these given that they are supremely comfortable.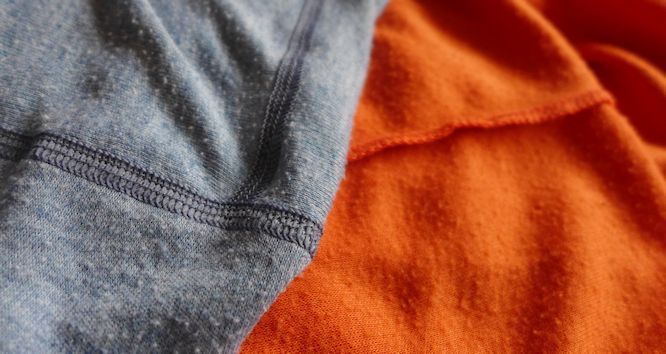 It's a shame that North Cape are defunct, the only stuff I can can compare it to in recent times is maybe Chocolate Fish (also defunct) and Wild Stripes. Like North Cape their gear is functional and to the point with great fabrics and welcome, basic construction.
I'm getting pissed off with every layer having to be sexy and trying to make me look like an athlete in a pose from a brand catalogue (virtual obviously, we don't do paper any more).
I look at a current base layer and there's seams all over the bloody thing and the arm lift is still inferior to the plain stuff above. What the hell is that all about? "Put seams on it, make body mapping zones, it'll look technical". No, it looks like you're trying too hard to impress me, stop it, it's a lot of pish.
The shops I bought the North Cape's in are dead and gone too, the wee independents of Challenge Sports in Falkirk and Dry Walker in Edinburgh.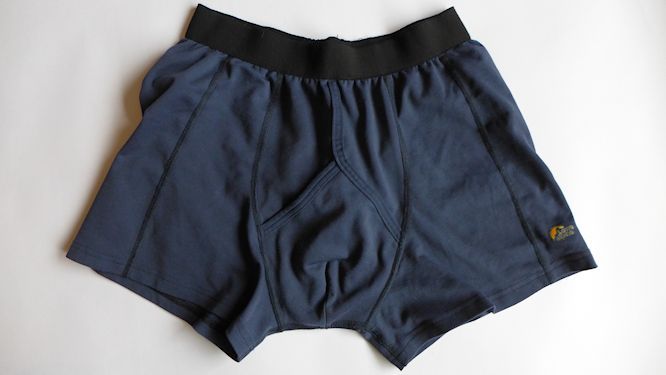 The oldest pants I can find are these Lowe Alpine boxers. I've used plenty Dryflo over the years, in fact a bright red three button Dryflo henley long sleeve top from the mid 90's was a contender for the shirt but it was just too damned tight on me now.
Y-fronts though. Hmm.
Fabric's okay, not the best stretch, the crotch shaping is pretty good though, nicely 3D. I suppose they're just the purchasing choice of a 34″ waisted bloke in his late 20's or early 30's, I'm not that guy, but I made a deal with myself about going all vintage. Just breathe in I suppose. Clench too maybe.
Lowe Alpine made some excellent clothing, Triple Point shells were all over the hills at one point and they championed eVent early on too. Just branded packs from the Equip group now. Bummer.