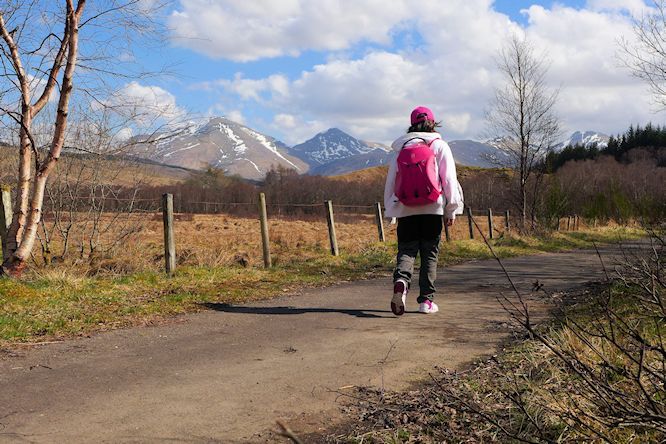 In times past I used to drop everything and run, the weather would stick a pin in the map and and I would go straight there, grab it and use it as a tent peg while marveling at the sunset and running around with a tripod and a camera on a 30 second exposure setting.
Times changed, all that stopped and I dropped out of virtual, digital and actual sight because the last 18 months or so I've had a more important role, that of single parent (nobody's dead, still tragic etc) to the awesome girl seen in this post here and all through the ten years worth of pages behind it.
It was an easy adjustment to make, I never even thought about it, randomly disappearing for a few days here and there just wasn't an option. There was never any frustration, I had no pressure to go anyway after Walkhighlands pulled the plug on the reviews and the desire just wasn't there, Holly needed me close to home and I wanted to be there.
What we never stopped doing was going into the hills together for a wee gad about, every chance we got we were up the A82, exploring, having lunch and arguing about what music to listen to in the truck.
We're still doing that, but we both have been finding more energy and enthusiasm the past few months. Holly's been asking to go, if I say I'm thinking about a trip she's asking to come along and off we go, whatever the weather. And now of course we're hitting the trails.
Holly's been approaching it on her own terms, sorting her kit out, packing a rucksack and then standing at the door telling me to hurry up. She's even taken over the gear testing, more of which imminently.
So when the plan for taking advantage of yesterday's stunning weather changed from a solo camp to me and the girl heading north as a team there was nothing but grins from either of us.

The sun did indeed beat down, the cool breeze above the trees was a life saver. Nice to be back in trail shoes and a trekking shirt too.
The returnees from Beinn Laoigh all looked hot and bothered, there were some skis in evidence, strapped to the sides of packs, some mad bastards had been screaming down the coire. Looked awesome from Cononish and I bet it was nice and cool in the shadow of the summit.
A fine hill, I should go back, been a wee while.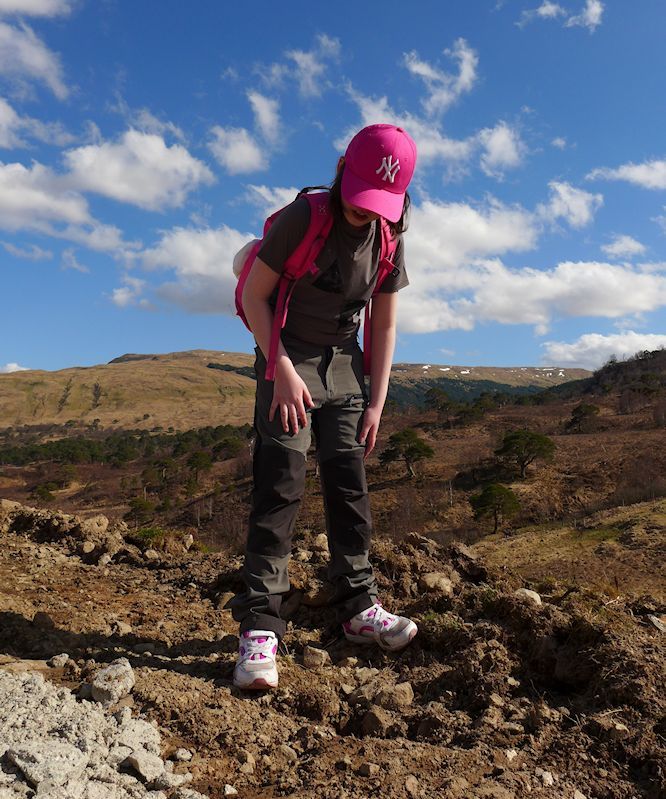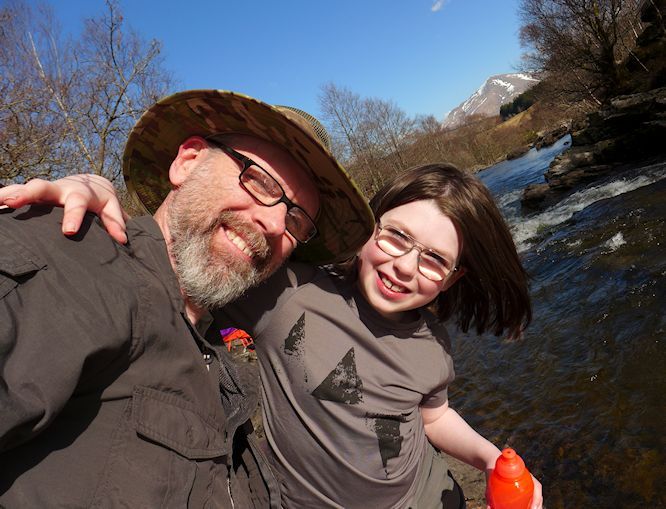 We had walked by the riverside on the way in and decided to find our way back as the beaches looked awfy inviting for wasting some time on.
We found a perfect spot where the river was broken by some rocks and then thrown down a little waterfall. We had the last of our snacks and dipped hot feet into the heart-stoppingly cold water, snowmelt straight from Coire Gaothach.
A little rest soon stretched out to an hour and more, it's amazing how much fun you can have just skipping around rocks in bare feet.
We didn't want to leave, so we didn't. My pack made a convincing pillow, which Holly found amusing and caught me rotten with the camera.
The giggling stirred me from my doze, I removed the hat and my freshly dazzled eyes looked straight up at a Golden Eagle, lazily circling high above.
Quick, gimme the camera!
No dad, you're not deleting it… (runs across the rocks)
But.. Look… There's an eagle… it's… quick…
Huh?
Well, the moon was still there by the time we sorted it out. Holly did get to see it too luckily.
Of course the way memory works, in a year or two the sighting will have developed into a life or death struggle between the bird, the angry badger in its talons and us watching helplessly as we cling onto the icy rocks at the edge of a 100m waterfall as our canoe shatters on the boulders at the bottom.
The West Highland Way was full of folk, and the hillwalker car parks were full and the A82 is now much better between Crianlarich and Tyndrum, smooth, cheap tarmac now thinly carpets the road surface. It'll be down to the canvas again by winter. Yay.
What a brilliant day.
2001? That's how much lunch was. Oof.