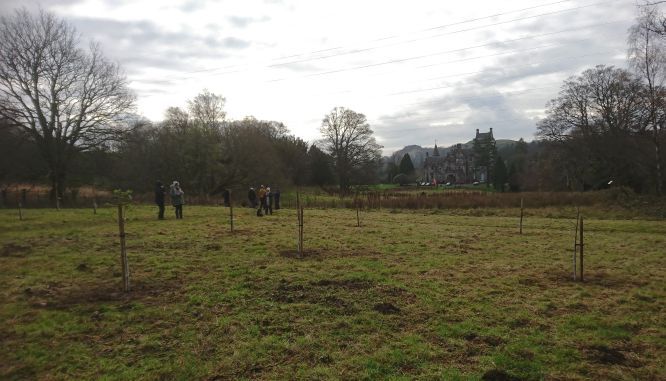 Had a fine day last Saturday. We had a fruit tree planting day at the the Lang Craigs in a handy wee space just up a bit from Overtoun House and despite the manky weather it was well attended.
We had a lot of families so quite a few wee yins in wellies and woolly hats digging in the mud and having fun before it was time for a quick wander round the trees to talk about winter identification (its bark and buds, that's how you tell).
Then it was back to the big hoose for soup and cuppas in a room I'd never been in, all dark paneling and roaring log fire.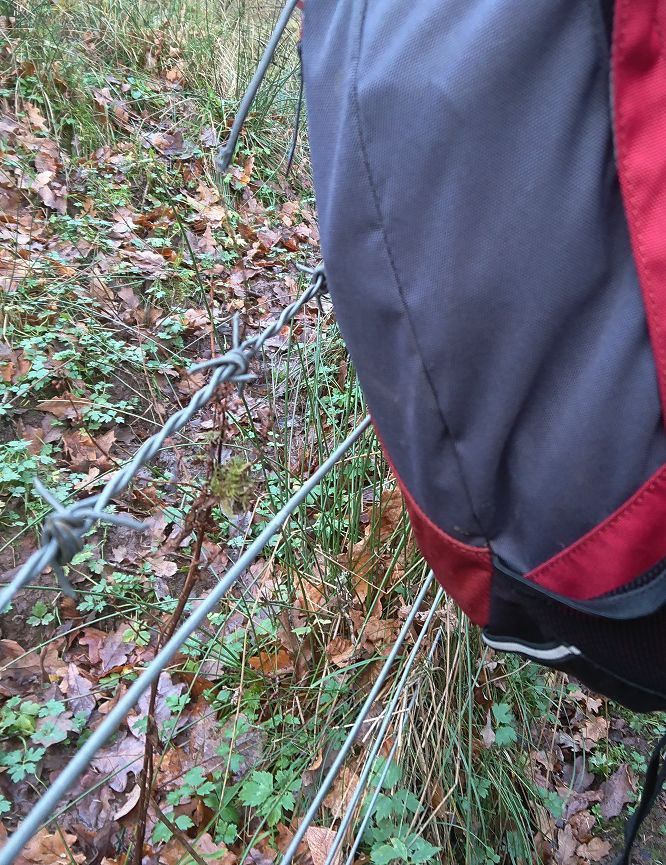 I did notice this barbed wire right on the path about to shred someone's rucksack. Is this allowed? I think not, this disagreeable neighbour's pushing his luck here I think.
That all done, everyone went their own way except me, Jo and Franki my fellow rangers and two poor wee buggers from BB's on a mission for achievements in their book of activity type thing (I should really have asked what the proper description of it was).
So, a quest of fence maintenance it was. I also had to fit some signs on the top gates so it seemed a good fit to give the boys a real task rather than some random box ticking exercise that I imagine happens a lot with this stuff.
It was however cold, a bit rainy, windy and late in the day. We also had a good bit of ascent to do so had to keep moving to get stuff done.
Franki lost my screwdriver at the first sign fitting. I am psychologically scarred for life knowing that a lifelong companion is lying lonely on the hillside somewhere. Rusting slowly…
We cleared a water gate, a swinging doodah above running water that lets swollen burns and debris through, but keeps deer out. There were three big boulders jammed under it, it's amazing how easily an unassuming little watercourse can move rocks you would struggle to roll never mind lift.
We climbed up to 1000ft dealing with fence issues on the way and fitted another couple of signs with cold fingers on spare screwdrivers before I called it: time to go down. I saw tired faces, darkening skies and we were all getting hungry.
Although not far away, the easy track were were picking up at Black Wood was beyond a nightmare crossing of moorland covered with water filled potholes, the legacy of prepping for tree planting. I'm used to it, I mostly skip from mound to mound, but every time I turned round I saw someone disappear into knee deep cold water and mud. Ha.
The track was descended in darkness, but the banter was in full flow, the team was happy. The youngsters did really well, it was a big day in very poor hill conditions and they did the tasks themselves.
I suspect there were some early nights had by team members.
Nice to be up there team handed, I usually feel like the upper contours only ever see me or the poachers. Lang Craigs, just magic.