I stopped off at Greggs to grab something for dinner later and got one of these new bakes they do with wee sausages, beans and cheese in them. It's a paper bag full of wrong, but damn it's tasty.
Ben Lomond shone like a lighthouse all the way there. The bright white summit ridge sharp against the blue sky. I haven't been here in months, it's just the way this year's gone and it was with some relief I looked at Trail that morning when it came through the letterbox and the Skye weekender looked fine. Maybe the misery of memories of days of rain and cloud doesn't matter after all. I've always said the next day will be the best one. Maybe that's optimistic, but it's also often true. Forwards is the best way.
Rowardennan was mobbed, cars filled the car park (now £3 for all day parking-machines currently broken) and knew I wasn't going to be alone up there. Mind you, the first folk I met were the black cattle grazing on the lower slopes and then the SNH ranger who was comparing 20 year old photies of the hillside to see what was happening with the trees and heather. Heather beetle is a worry apparently. Oh good.
The ranger is just a wee lassie and she caught me up twice on the climb. I was roasting, sweat was running down my face and making my eyes sting so I had to keep stopping to wipe them while breathing heavily. It might look cold, but it was pretty bloody warm until about 500m where I could finally roll down my sleeves.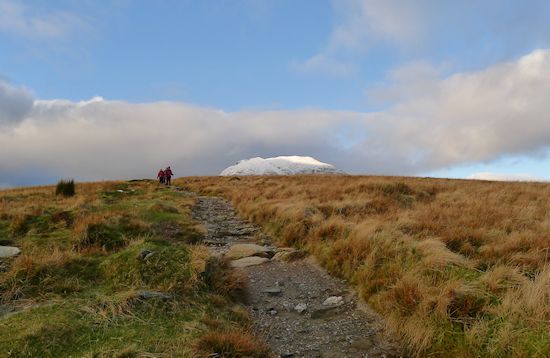 On Sron Aonaich the summit came into view again, wearing steaks of light now as the sun lowered into the clouds that lay out to sea. The Arrochar Alps were catching some wisps on their tops, had I left it too late?
I soon met more people where we talked about crampons, I've already talked trail food and softshell on the way up, it was that sort of day where most folk seemed to be in a great mood and were happy with a slower pace and had time to talk. And talk I did. Poor buggers.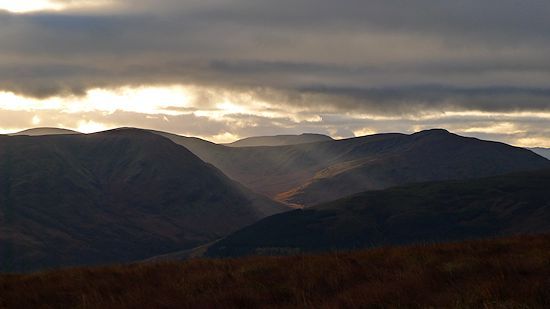 The trail on Sron Aonaich is easy angled and my heart and breathing  rates lowered to meet the more pleasant temperature. It's a bimble and my mind wandered as I stuck my hands into my pockets. The light was lovely, looking east it was still cloudless and bright but I was on the diving line where the cloud was trying muscle in. Perfect, it felt good to be there and whatever happened be it stunning or viewless I didn't give a shit.
I did have one worry and it nagged at me but there was still no answer to it when the ground steepened and I had other things to think about. But it remains an important question: why do boybands sing in harmony and girlbands screech in the same pitch? Seriously, from The Beatles to East 17, harmonies all the way, Girls Aloud to whatever X Factor shite is out now, shouting in the same pitch in thin scratchy voices. I know there's exceptions, but still, I'm suspicious.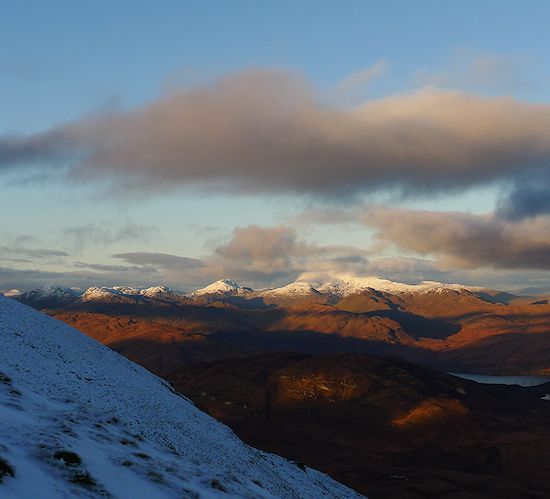 I met John. Home from Colorado where he's lived a long time and making the most of the day. His grin was as wide as mine and we stood and bantered as the sun started to graze the horizon. Damn these winter days are short.
I took my usual detour off the track and onto the rim of the summit ridge. There was already one set of prints in the snow and whoever put there there, bless you, I wasn't the only one who saw the best side of the Ben this Monday.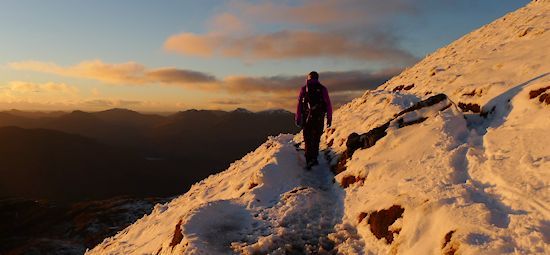 The yellow was turning to pink and shimmering on the ice encrusted summit. It's a bare place but there was a welcome waiting, a trio led by the fella that owns Summits outdoor shop. The Paisley shop could be the last independent in the central belt?
Also though was someone I know very well and what would my firts snows of winter be without the familiar greeting of rawwwk rawwwk rawwwk. Hello Mr Raven.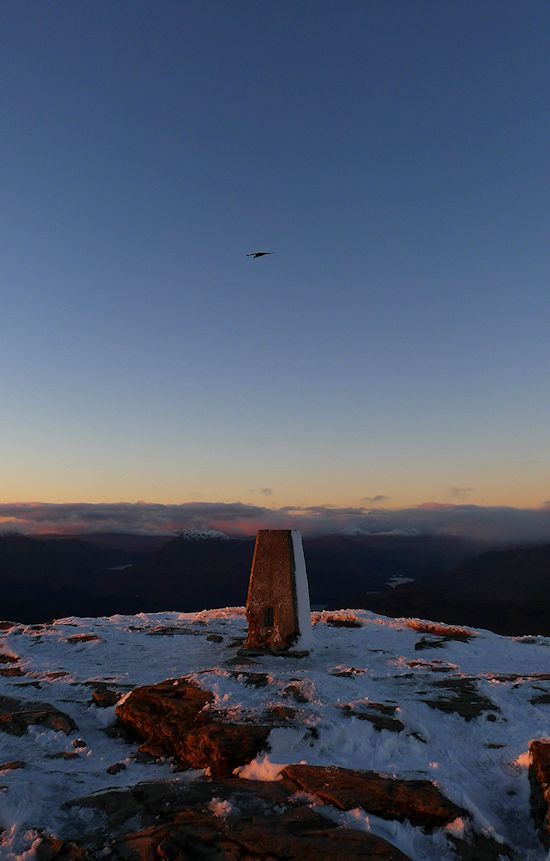 I was going to fire up the stove by the trig pillar. But it was cold, too cold on legs without longjons and as the darkness swirled around my feet and rose up around me like water in the boiler room of a sinking ship I decided to walk the ridge one more time.
The snow in the northern coire was indigo, almost black, the yellow of my down jacket was a dirty grey, the ribbon of gold to the west had no power left to lighten anything at all and what could be overpowering or almost sinister just felt gentle and benign.
At 3196ft night had arrived and all I could think of doing was wiping some snow off a rock and firing up the stove.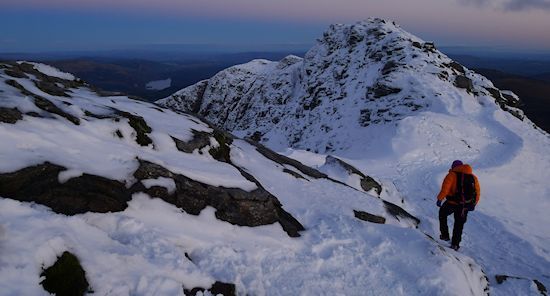 I sat and watched as nothing in particular happened. The twinkling lights in the darkness from Greenock, Glasgow and Stirling shrank the distance between us all. Scotland is a such a small country. And with a lot to think about right now.
I was warm enough, I was fed and was still a full descent away from a short drive home. It was quiet, I was out of the light winds and the mountain was all mine. I'll sit just a wee while more.
Probably unavoidably, and certainly aptly, it was late when I finally left for home.